Last Race
Upcoming Races
Migo Mile
Duncan Macfarlane Race - AKA The Dunky
BAYWA.r.e Inverclyde Windfarm Trail Race 2021 – report and results

This was an exciting opportunity to collaborate with one of Scotland's oldest running clubs, which boosts amongst it ranks many familiar faces, and indeed friends of mine. I couldn't say no, when fellow race director, Andy McCall asked Acorn Trails to get involved.
And it truly was an exciting venture. One of the first open races back on the Scottish calendar, especially over a "short" distance. There have been several ultras already hosted since restrictions began to relax.
Quickly on the back of our first race back, the Linn Park Centenary Trail Race, and the day after a holiday in the Outer Hebrides meant that logistics would prove to be challenging. As beautiful as Luskentyre beach on Harris is, the power supply and internet signal are, in most cases good news, lacking.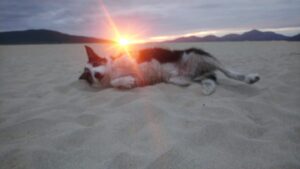 Speaking of Harris..Glenpark Harriers brought their annual club championship event, the Harris Trophy, and incorporated it into this event for Harrier participants. This ensured a blue, blue sea on the start-line. GGH club championship events, are often a prelude to a great post event social. I've managed to gate crash more than one. The Harris Trophy is usually on Bute, with a great after race celebration in Rothesay. This year's restrictions has led to Harriers having their championship events closer to home, and it does not get much closer than the brand new Inverclyde Windfarm.
The brand new windfarm, from BayWa.r.e, was completed in late 2020. The windfarm located south of Port Glasgow and Greenock, consists of eight 110m turbines. The windfarm produces 24 MW of clean, renewable energy which is enough to power around 44% of Inverclyde households and compared to conventional, non-renewable energy sources would displace over 18,000 tonnes of carbon dioxide emissions annually.

The Race
There were 117 runners toeing the line, on a warm, clammy, and breezy evening in Inverclyde. Pre-race nerves were apparent, evidenced by the long queues for the provided portaloos. BayWa.r.e representatives were on site to see the first race at their brand new windfarm. The race will hopefully showcase the facility as an ideal place for runners to challenge themselves over coming years.
And the route is a challenge. Comprising a short out and back for the start/finish, the main route is three clockwise laps of a 2.8km loop around the turbines. The clockwise loop incorporates a Strava segment known as "Killer". At nearly 200m long with a gradient of 18.4%, this would definitely invoke a few expletives during the race. Runners accused the race directors of making the hill bigger between laps 2 and 3!
The steep uphill, is rewarded by long sweeping downhill sections, allowing the fleet of foot to open their legs and hit pace approaching 3min/km.
The Podium
One of the fleet of foot and eventual winner, Kieran Cooper (Cambuslang Harriers/St Andrews Uni) took advantage of the early pack to shelter from the headwind. Using the Killer hill as a "loosener", he then proceeded to hit the front on the subsequent downhill. A position he would hold until taking the tape in an eye watering 00:30:50 for 8.8km and nearly 200m of ascent. An Acorn Trails double for Kieran having recently taken first place in the Linn Park Trail event.
Glenpark Harrier, Shaun Lyon took the Harris Trophy, crossing the line in 31.47, with Stuart Donnachie (Unattached) filling the podium in 32.18. At this stage it was looking good for "The Rest".
A head-to-head battle announced in the pre-race brief to "add a bit of spice", pitted the Glenpark Harriers contingent against the all-comers. Top 10 counters from each team would need to include 5 males/5 females and a least 1 V40 and 1 V50. More on that later!
Louise Mitchell (Cani-Sport Fife) would improve on her second place at the Linn Park Centenary Trail Race, and take top place on the podium.  In 38.38, Sue Hewitson (Glenpark Harriers) had done her best to reel in Mitchell, and closed her lead to 14 seconds at the finish line in 38:52. Closing out a strong female podium, Kristina Greig (Bellahouston Harriers) took the third step in 39:25.
Photos
Lots of photos from the on course official photography and other enthusiastic individuals are being shared to the Acorn Trails Pinboard
Prizes
Prizes were awarded to contested categories. Only one prize per runner. Prizes are in the form of vouchers for Migo Sports. 1st place overall were each given a baby tree to look after as well courtesy of the Acorn Trails nursery! These can be used in the store at 511 Clarkston Road, Glasgow or online at www.migosports.co.uk
Overall:
Full results – from KitST, refined results, including categories, and Harris Trophy (pdf, excel)
Female:
1st  (£50)  – Louise Mitchell (Cani Sports Fife)
2nd (£25) – Sue Hewitson (Glenpark Harriers)
3rd (£10) – Kristina Grieg (Bellahouston Harriers)
Male:
1st (£50) – Kieran Cooper (Cambuslang/St Andrews Uni)
2nd (£25) – Shaun Lyon (Glenpark Harriers)
3rd (£10) – Stuart Donnachie (Unattached)
Female 40
1st (£30) – Marion Monk (Glenpark Harriers)
Female 50
1st (£30) – Debbie McKenzie (Glenpark Harriers)
Female 60
1st (£30) – Jean Mclennan (Dunoon Hill Runners)
Male 40
1st (£30) – Neil Lafferty (Glenpark Harriers)
Male 50
1st (£30) – Richard Cooper (Cambuslang Harriers)
Male 60
1st (£30) – Donald Petrie (Kilbarchan Amateur AC)
Male 70
1st (£30) – Frank Mcmahon (Glenpark Harriers)
Harris Trophy
Shaun Lyon and Sue Hewitson (Glenpark Harrier)
Head to Head
Announced at the start line to add an extra element, the head-to-head would set the Greenock Glenpark Harriers against the all-comers. Each team would have 10 "counters" consisting 5 male and 5 females, which must contain at least one runner from each Senior, V40, V50 and V60 categories! I had fun working that result out..
Speaking of the result…
"The Rest" took the plaudits with 368 points with Harriers bringing home a total of 418. Points awarded for overall race position. So first place gets 1 point, 27th place gets 27 points etc. The lowest scoring team is therefore made up of runners finishing higher up the order.
Counters for the teams were:
GGH: Shaun Lyon, Neil Lafferty, Wes Pattison, Paul Monaghan, Sue Hewitson, Danny McLaughlin, Marian Monk, Fiona Macfarlane, Debbie McKenzie and Charlotte McKay
"The Rest" AKA "The Acorn X": Kieran Cooper, Stuart Donnachie, Richard Cooper, Paul Sorrie, Louise Mitchell, Donald Petrie, Kristina Greig, Emma Stewart, Jean Mclennan and Aileen Coulter.
Well done to The Acorn X 😊
Ardgowan Hospice
Many thanks to all your donations. So far we have been able to dedicate £215 to this amazing local charity and all the hard work they do in the local community. Event monies are still being finished up, and hopefully we'll be in a position to top this amount up.
Thanks
As always, an event like this comes with a big list of thank yous. Without these people the event would not be the success it was. In no particular order we would like to express our gratitude to:
Event Sponsors – BayWa.r.e, Migo Sports, Tesco (Port Glasgow) and Tunnocks
Marshals: Andy Gallacher, Kevin O'Donoghue, Yvonne Prager, Emma Benstead, Wenda Crawford, Sandra Devine, Abbigael Crawford, Elaine Medinelli, Lorna Coyle, Angela Nelson, Jennifer Boyd, David Black, Robert Hill, Brian Hughes, Robin Mcauslan
Event Timing: Ted from www.kitst.co.uk
Race Director: Andy McCall
Event Co-host: Glenpark Harriers
Photography: GBR Photographs
We can't wait to see you all at a future Acorn Trails event.  Sign-up to the mailing list to hear more and follow us on social media.
4 responses to "BAYWA.r.e Inverclyde Windfarm Trail Race 2021 – report and results"