Last Race
Upcoming Races
"The Dunky" - Duncan Macfarlane Race
South By Five
Rx5 – Rouken Glen race report
Rx5 race report
With a good autumnal downpour lashing the route during Saturday's litter pick, and Storm Barra brewing out in the Atlantic, we once again we're looked upon kindly by the weather goods.
Blue skies and sun shone down on a bitterly cold Sunday morning. Saturday's mud, frozen to an underfoot crunch.
Michelle kept the pre race brief short and sweet, as runners wrapped their arms around themselves to keep warm.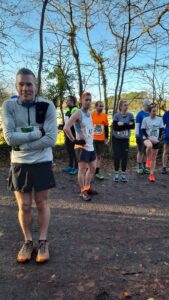 If warm was what they needed, they were soon to get it. With a blast on the start hooter, and an excited woofing, runners were dispatched into a challenging, and warming hill start.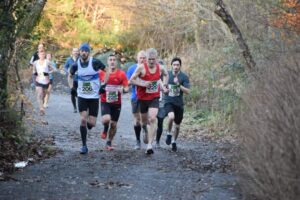 It's a hill that just keeps giving. A couple of slight bends doing enough to hide the next stage of the incline.
The meadow cross-country-esque section was apt for the weekend which had seen the West District XC in Balloch take place on Saturday.
Runners exited the meadow to the miscalculated cries of 'nearly there', and "not far to go' from event sponsor, Mikey "Migo Sports" Gowans.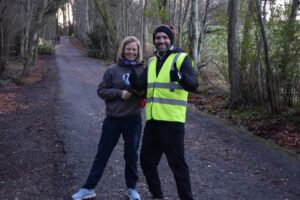 Two sets of contrasting steps…long downhill strides, then tightly packed uphill steps really threw runners off their stride, before hitting the arching tarmac section navigating other park users and wayward dogs before reaching the waterfall, and heading into a second lap.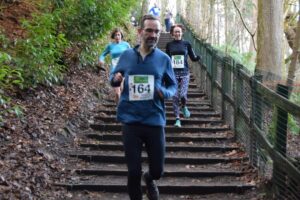 Oh and then that hill that keeps giving, saved it's best until last. A long downhill finish, leading toward the finish line that just never seemed to get any closer.
New shoes, new winner
Colin Whitby (Garscube) learnt a lesson in the last race at Linn Park. Namely he may need more than flappy arms to stay upright. A brand new pair of Inov8 Mudclaws leading to a top step on the podium in 19.27.
Chris Upson (Cambuslang) pushed Whitby all the way, both runners groaning with effort over the line. Upson (19.34) beating club mate Richard Cooper into third place (20.16), attributing it to having watched "Anything is possible" the night before. He quipped to an exhausted Cooper, that he'll beat him at the rest of the series now! Fighting talk!
Jenny Brown came from behind to take the top spot from Linn Park winner, Elle Homewood, crossing the line in 22:40 with the Westie in 2nd place with a time of 22:53 Roberta Fletcher filled the last podium step with a smile and time of 23:02.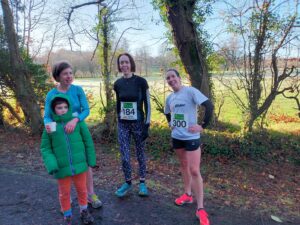 Results:
The series
Rouken Glen is Alex's favourite of the six routes. A race that sums up the whole series in one race. The route has a bit of everything that all the other races feature.
Now three races in there are a few folk that can now no longer qualify for the final standings. These will be compiled from the runners best 5 race positions from 5 or 6 races they complete.
The series results are below. The overall score not currently relevant as some runners have completed more races than others.
Next…
We head to Pollok Park next on December 19th. Race start 10.30. Entries are still open
Remember there is no parking within Pollok Park at the weekend. Please allow adequate time to find a suitable spot, and reach registration.
Finale
After the last race at Queens Park (Jan 16th) we will head to Wellcroft Bowling Club (note different venue to 2020) for prize giving. There will also be soup and rolls for the series entrants included in your entry. Others are welcome, and all we ask is a small donation.
Thanks
Andrew Anderson, Lynn Connor, Rodger McEleney, Brian Hughes, Keira Hill, Finn HS, Mikey Gowans, June McLeod, Clare Taylor, Scott Walker, Cedric Moreau, Sheila Lewis, Jacqueline Glass, Ray Loughran, Imaan Niven , Finola Ashe, Jim the Dog, Kevin Queenan, Tunnocks