Last Race
Upcoming Races
"The Dunky" - Duncan Macfarlane Race
South By Five
Sx5 – Linn Park race report
Lx5 race report
South By Five in its second running started its second race. Linn Park was looking fantastic. Bright blue skies, glorious sunshine and a wee touch of ground frost, which would clear in time for the race start. It kept the race team chilled from the early setup.
Returning runners were reissued their bibs from the previous event, now proudly sporting the red dot symbolising their completion of race 1 in Kings Park. By the time series entrants complete their final race in Queens Park on January 16th, they'll proudly display a rainbow of colours across their race number. A small homage to the South Side Six which inspired the creation of this series.
Over the hill and far away….
Runners were lulled into a false sense of security with a downhill start. It was just a warmup! Participants trundled over the famous Halfpenny Bridge which is the parks centre piece, just up from the waterfall which gives the park its name.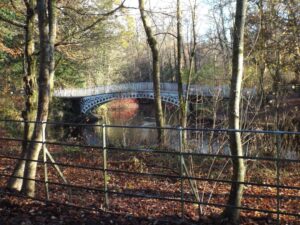 The route followed the river, twisting through the Low Wood, before a gentle undulation over the small meadow. A nice reprieve along the new Friends of Linn Park path adjacent to the road, before that hill. That hill that earned itself lots of comments. I'm sure many of them are unprintable. Especially the second time around!
On reaching the hilltop, it was downhill, via the Top Wood all the way back to the Bridge. The long descent of the big meadow giving back everything that That Hill had taken away. A quick splash in the duck pond and onwards to lap two. That thought led to a few grimaces on the race photos!
….and only three little ducks came back!
The duck pond this year was much smaller than the previous running. A combination of less rain, and some drainage improvements by Friends of Linn Park.
Still a small family of 4 made an appearance to quack the runners on. But mysteriously one disappeared. Not just anyone. Mother duck left her three babies to fend for themselves as the runners passed by. After the race had finished, she was found by herself halfway up the meadow! A passing dog being the main suspect in the ducknapping incident!
From duck takes to tape tales
Just like that, Richard "Tommy" Cooper (Cambuslang) took the tape in 19.55, a time which mirrored his 2019 performance. The absence of son Kieran allowed Richard to land a well-earned first place to compliment his second place in the Kings Park event.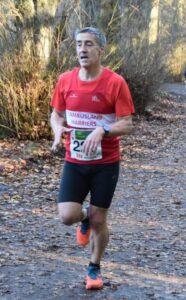 Steven Prentice, a Linn Park solo event entrant took second spot working all the way to the line, that downhill start now an uphill finish!
Third step was filled with former Irvine RC runner and Sx5 veteran, Colin Whitby, bringing his new Garscube colours to the fore.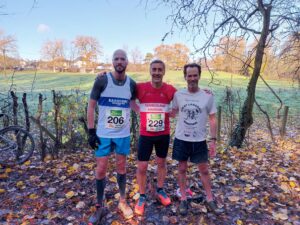 Female top spot was far enough in front to lead fourth place runner to think she'd finished third! Elle Homewood (Westerlands) took the hill in her stride twice over without missing a beat. Hill runners probably don't think that wee bump counts as a hill! An excellent time of 22.12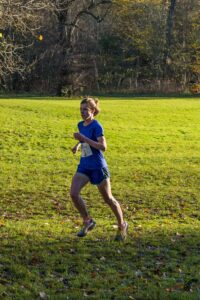 Second place was Jenny Brown, adding to her first place at Kings Park leaving her a strong position for the rest of the series.
Third place was Hannah Bayes in 23:03, only 6 seconds behind Jenny.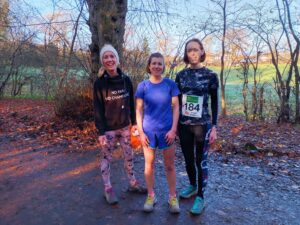 Full results
Full results for Linn Park only can be found here
The results for series so far can be found here. The 5 best results from the 6 races will count for each runner. So even if you have missed an event there is all to still run for.
Race photos
Thanks very much to Kevin Queenan for the "official" race photos, which can be found on Facebook here.
Other photographers arrived on the day to take advantage of the fantastic weather. Click the images below to be taken to their shots…
Rx5
Next up in two weeks we visit Rouken Glen. Another undulating route. Uphill start = downhill finish! What we call a multi terrain route.
We look forward to seeing you all there.
Entries are still open at www.entrycentral.com/rx5
Thanks
As always these events could not go ahead with the awesome support from the hi-viz volunteer heroes.
June MacLeod, Jacqueline Glass, Cedric Moreau, Euan Moffat (FoLP), Marina McCallum, Brian Hughes, Dorothy Buchanan (FoLP), Seoras Buchanan (FoLP), Raymond Buchanan (FoLP), Rodger McEleney (FoLP), Scott Walker, George "Birthday Boy" Wilson (FoLP), Clare Taylor, Andrew Anderson, Lynn Connor, Deidre Hoyle, Imaan Niven.
Thanks to Tunnocks and Migo Sports for their support.
Thanks also to the litter pickers who joined us on Saturday to give the course a wee spruce. Good to note that the team of 11 pickers struggled to find enough litter for them all! Thanks to the FitforIt bootcamp crew.