Last Race
Upcoming Races
"The Dunky" - Duncan Macfarlane Race
South By Five
Sx5 Pollok Park race report
Pollok Park – everyone has run in Pollok Park. "I know the park well", "I run Pollok parkrun every week", "I run in Pollok all the time"
Then Acorn Trails arrives and takes you to parts of the park you didn't know existed. Just like the Pollok Park Trail Race earlier this year, we promised mud.
Pollok Park delivered.
I keep saying it, race after race, but this one is my favourite! It can't be helped that they're all great routes!
Litter pick recce
Saturday's litter pick proved decisive. As we wandered down through the gloop and gloom of the misty Rhododendron Trail, we decided that the section at the front of the Burrel Collection was horrible, clunky and did not flow like a race should.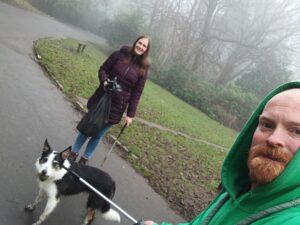 Over a couple of beers in Shawlands, Saturday evening alterations were made to the route. Fingers were crossed that Plan B would work when we course marked on Sunday morning. Devising a route on paper (or Strava) is one thing. Having it work in practice is another.
We added more trail, lost some tarmac and added a few bonus metres to the overall route distance. We'd noticed a couple of the previous races had shown up slightly short for some people, so figured we owed you those extra bits!
And if you only entered this one race, well you got a bargain!! 5.3k for the price of 5!
The route
Shoe choice was queried at registration. I recommended the Mudclaws. The first few hundred metres would likely have had this gentleman query my judgement, as the race started on a reverse trajectory of the parkrun, before skipping across the newly installed bridge, then picking up the downhill trail parallel the the parkrun finish.
A short road section led onto the hastily revised section through a relatively unknown bit of trail, twisting and turning through the young saplings before reaching the top of the Burrell carpark.
A sharp downhill and quick turn taking runners down the centre of the glade. Often flooded (which led to a 2020 route diversion) work has been done to alleviate this issue, allowing us to jeep the the trails. Another new section of the park for many.
A quick cheer from Migo Sports, before a sharp climb onto the Rhododendron Trail, a wee tail wag from Jim, and some well promised mud.
The Mudclaws would come into their own here! The fist section of the trail has had some recent cutback by the local park rangers (thanks guys!), and underfoot conditions, a little mud and squelch, teased at the conditions ahead.
The second section of the Rhododendron Trail is a mud fest. It's fantastic. In a park of multiple activities, paths and surfaces I hope this section retains this character! Not everyone wants a well manicured surface. And this park has amples of that for those that do.
The squelchiest section saved for the camera, before hitting up lap two and doing it all again.
Results
Colin Whitby (Garscube Harriers) gave his new trainers the mud they craved, and they rewarded him with a victory.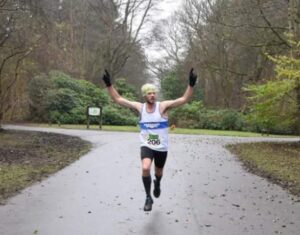 Just ticking over the 20 minute barrier (20.15), Whitby finished well clear of second place man Chris Upson (Cambuslang) who was 24 seconds behind in 20.39. Suleiman Niven, (lead member of the family affair who we've labelled "Niven plc" – three runners, and a marshal!) filled the podium in 20.52.
Ellie Homewood (Westerlands CCC) reclaimed her top step on the podium, holding Rouken Glen winner Jenny Brown off and taking the tape in 22.47.
Brown herself was hard pushed to a second place time of 23.20, with Hannah Bayes hot on her tail in 23.29.
Series standings
The series standings are hotting up. Remember you need to complete 5 from 6 races to be in the mix for the prizes. Best 5 results will be used for those who complete 6 events.
Yin and Yang
The next race at Bellahouston Park on January 2nd is in stark contrast to Pollok Park.
With Px5 'flat' and muddy, Bx5 is hilly and totally paved. And has a down hill finish too!
Entries are still open – what a great Christmas present!
It's also a Bellahouston Harriers club race, so expect a sea of Saltires. I wonder if there will be some purple pigeons in there to upset the navy blue cats!!
Thanks
As usual we can't express enough thanks to our volunteers. And we hope that you runners acknowledge them on the way round.
Deidre Hoyle, Lynne Connor, Brian Hughes, Jim the Dog, Clare Taylor, Sean McIntyre, Rodger McEleney, Imaan Niven, Cedric Moreau, Ray Loughran, Mikey 'Migo Sports' Gowans, Finn HS, Kevin Queenan (photos), Daniel Sinsheimer