Last Race
Upcoming Races
"The Dunky" - Duncan Macfarlane Race
South By Five
Four or Forty for Scottish Autism
It wasn't Clyde Stride. For some it wasn't an ultra.
But it was something we wanted to do. We wanted to put on an event to support Scottish Autism.
They were the chosen charity partner for the 2021 edition of the Clyde Stride Ultra Marathon.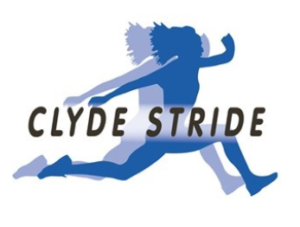 A Virtual Event
We had already decided, during the planning phase, that the full ultra would be accompanied by a 4 mile virtual event. This was based on the feedback we received from last year's Virtual Clyde Stride 4.0 Miles. We figured side by side virtual and full event would maximise the monies raised for the charity.
So, we couldn't proceed with that. Inevitably the easing of restrictions did not ease quick enough.
Scottish Autism, like many charities, get a lot of donations from runners taking part in events. With events having dried up in the past 18 months, so have much needed funds.
We took our event solely virtual to try continue our pledge to raise some funds.
Four or Forty
We kept to the plan to have a 4 mile virtual, but reflected that some runners had still trained to run the full race distance. "Four or Forty" was born, allowing participants to choose their distance. The entry fee was obviously £4, all of which went to Scottish Autism.
The total raised is nearly £900, between entries, donations, and sponsorship already pledged to those who had planned to run the ultra for Scottish Autism.
Taking Part
Feeling fully prepped, some folk took to the route and took on the full thing. Scorching weather over race weekend did not make this any easier.
Last year's virtual organisers, The Run Bible, were represented by Dan, who was accompanied for the first 20 miles by Acorn Trails' Alex. By this stage Dan had caught up with Fraser Samson running the full thing to fulfil his sponsorship pledges. They would complete a section together before Dan's ultra and marathon fitness allowed him to push on a bit quicker into the heat, followed by Fraser's best wishes. They would see each again at the New Lanark finish line.
Taking the Four or Forty approach, Hazel Macgregor and her relay team of 4, set out together on a similar challenge with a £400 fundraising target.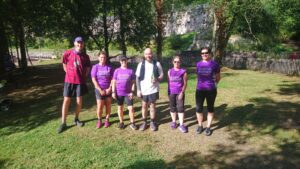 They were also at the New Lanark finish line, emblazoned in Scottish Autism livery to cheer Fraser through the archway.
On Sunday of the race weekend, Gary Birnie ran solo through the Scottish sun – an actual hot sun – to complete the full route unsupported. Another awesome achievement.
The 4s
Across Scotland runners took themselves out to complete their 4s.
Allison Hamilton ably guided by Liz Deans' took in a stretch of the Clyde through Glasgow. I'm sure Allison's run is made much easier just following the constant sound of Liz's friendly patter.
Jiggly Joggers, in Glasgow's east end, were represented by founder Elaine Leitch, continuing to show they are more than just C25K. Members of the group are now pushing into a full range of distances. Hopefully we'll see them at the event next year
Fresh off the back of our recent collaboration with Greenock Glenpark Harriers at the Inverclyde Windfarm Trail Race, the club had three representatives for 4ortTY, with Emma and David Benstead, and Charlotte McKay flying the flag. En Avant!
Out in Fife, Kathryn Williamson used her weekend to start her training for next year's ultra! At least that's how we interpreted it. Hopefully see you next year Kathryn!
That's just a wee snap-shop of the support our runners did last weekend to support Scottish Autism.
Thank you so much for taking part. We hope you enjoyed it, and look forward to seeing you at a future Acorn Trails event. We hope that next year allows us to bring you the real Clyde Stride
Alex, Michelle and Team Acorn.