Last Race
Upcoming Races
"The Dunky" - Duncan Macfarlane Race
South By Five
Happy Birthday Dunky
A success. We're definitely calling the Dunky just that.
With £333 raised for the Woodland Trust, and 30 new trees planted with Trees For Life, I am sure you will all agree too.
We had entries from as far apart as Canada to Edinburgh, and Inverness to Jersey! From ages 9 to 94, and all the age categories in between, a total of 80 entries.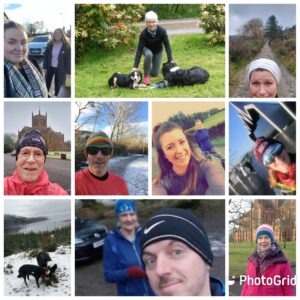 A full range of conditions were undertaken by finishers. Battered by snow and hail, wading through mud, sunning themselves, fast tarmac, scenic hill climbs and stunning cliff tops. You took Dunky with you far and wide. Travels and destinations that would have impressed the good man himself. A man who loved an island, he would have enjoyed the Jersey clifftops. A man who was inspired by Dunoon, he would have admired the Clyde from atop the local hill. Always striving, he would have enjoyed those hitting their 10k goals so early in the year.
He would certainly have been humbled at the show of support from the runners of his adopted home town of Dumfries. He would have been amused at the synchronicity of his daughter living on Dumfries Street, and running along the River Nith despite living in Canada! And he would have adored his great grand-daughter walking her 10k around his beloved old training trails of Mugdock Park. "I don't care if my feet are sore, I'm doing this for Great-Grandpa" – that may have brought a sly tear to his eye.
Wherever you ran or walked, long or far, low or high, we thank you for your support, and helping us celebrate Duncan's 100th birthday.
Event merch
Those who chose the event merch will be receiving them soon. All the orders are placed. In order to reduce packaging, all the items are being sent to Acorn Trails HQ, combined where necessary and then sent out. Please bear with us whilst we go through this process.
We hope to see you when we race the Dunky for 'real'! If you don't think you could run it, come along and support. A wee cheer always helps, or be one of the hi-viz heroes vital to ensuring events go ahead.
Thanks again
Alex and Michelle
Up next – Absolutely Febulous, our amazing February challenge. Click here for more details
One response to "Happy Birthday Dunky"