Last Race
Upcoming Races
"The Dunky" - Duncan Macfarlane Race
South By Five
Kx5 race report
We're back. South By Five returned to Kings Park after a covid enforced absence.
The water works in the park are gone. This allowed us to redesign the route to take in the full park, and show off areas folk hadn't seen before. Indeed many folk commented they had never before run in Kings Park at all. They were in for a treat.
Despite the full park being open, it is still relatively small compared to others in the series, which still meant laps. Although just 2.5 this time rather than 3.5 last time round.
We added a bit of off road, although the weather gods were kind. The grass refused to churn up and there was no standing water which we could route the race through.
We did however still find some small bumps to sap the energy from those eager race one legs.
With Michelle once again on race director duties, the runners listened to her race brief.
It pays to listen… eventual race winner, Duncan Robinson (Giffnock AC) nearly missed out, cruising to a halt after two laps. The sportsmanship of the second and third place runners pointing out his error, allowed the runner to move on, complete his smaller third loop and take the win.
His time of 18.56, was closely followed by South By Five vet, Richard Cooper (Cambuslang) who was surprised to take 2nd place. The surprise led by his participation in the Tinto Hill Race the day before (39.39 just a few seconds behind the first female).
The podium was filled by Victor Macgregor continuing a return to form, a top three all under 19 minutes.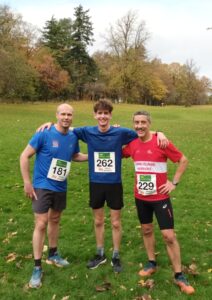 South By Five returning champion, Jenny Brown kept Hannah Bayes at bay to take the top spot in 21.27.
Also returning to the Sx5 podium, was Sheila Murray. Quickly added to the podium photos before getting chance to get her breath back.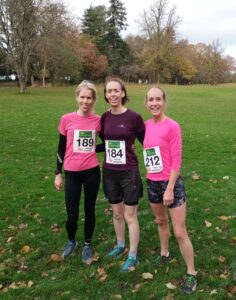 A couple of the field joined Cooper in the tired legs team having raced the XC the day before. Also racing the day before was Team Kerr – 'running and rolling' their way round Arthur's Seat for the Edinburgh MoRun. Our hills would be a tough end to a whistlestop tour before they headed home to Northern Ireland.
Team Kerr loved the amazing friendly atmosphere created by the runners. It was great to have them taking part in our event. And a time of 36.33 not to be sniffed at on such an undulating route.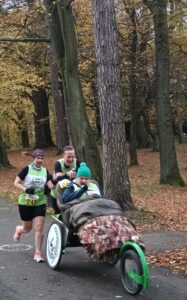 They are currently crowdfunding for a trailer to enable Aaron to continue his bling quest.
Anyone interested in making a wee donation can do so on the link below.
https://www.justgiving.com/crowdfunding/teamkerrtrailer
The full results are available here….
Race photos with thanks to Kevin Queenan can be found here
For those in the full series, only 5 out of the 6 races will be counted towards the final league table. So even if you had a shocker, (no names mentioned but rhymes with 'hurry'!) or couldn't make the start line, all is not yet lost.
We look forward to seeing you all in two weeks for the next edition at Linn Park. Entries are still open…..
Volunteers for the marshal team are also always welcome.
Thanks to this week's heroes…. Deirdre Hoyle, Alex Osborne (Snr!), Jim the Dog, Brian Hughes, Rodger McEleney, Kieran Cooper, Anne Broderick, Cedric Moreau, Clare Taylor, Kevin
Thanks also to Coop Croftfoot and Tunnock's for the post race snacks.
One response to "Kx5 race report"