Last Race
Upcoming Races
"The Dunky" - Duncan Macfarlane Race
Sandhead 10 - coming soon
Sx5 Kings Park race report and results
South By Five
Running is often billed as a free sport. Ask runners, and they'll tell you the cost of trainers, tshirts, jackets, belts, gloves, waterproofs, races soon add up! South By Five this year was aimed to help with the rising costs. And we visited Kings Park for the first event.
Entrants were asked to give only what they could afford to a variety of, let's call them 'ethical' options. Tree planting in a Scottish re-wilding project, foodbank donations, charity donations to Give A Dog A Bone, t-shirts from recycled bottles or a small donation to the operating costs of the event. South By Five is a not-for-profit race series, and we hope everyone can be a winner in some way!
Kx5
Kings Park once again stood resplendent in the autumnal sunshine, and the heavy dawn showers cleared through. Under foot was damp, over head was dry. The perfect combination.
The opening race in the series was a sell out (subsequently so the series – get on the waiting list, there's a good chance you'll get a race!).
Some short delay to allow the course to be fully cleared of obstacles, and runners were off on the gradual incline, and past their first visit to the finish line.
Loops….🙈
A 'short loop' involved a quick twist and turn through the play park. A down hill quad warmer towards Kings Park dominant feature, Aitkenhead House. Time bonuses may be awarded next year for anyone using the swings and climbing frame, or maybe we'll divert the route through and over them!
The second visit to the finish line represents the start if the two 'big loops', which offer a full tour of Kings Park and all it's undulations. Despite the absence of mud, this is after all an Acorn Trails event!
Some wet downhill grass led to some trepidatious runners clad in road shoes carefully heading along the back stretch.
Using the racing line, actually resulted in the best mud action. Speedster Mark King (Cambuslang harriers) taking a rolling tumble, and finally getting dirty at an Acorn Trails event!
More downhills toward our regular snapper, Kevin Keenan (massive thanks). Photos are on social media and can be found here. This course seems to have a lot of downhill 🤔🤔🤔🤔
A penultimate visit to the finish line was preceded by running past the Walled Garden. Well worth a nosy next time your in the park, and the site of plenty volunteer work from Friends of Kings Park. Feel free to join them! We did prior to the race, helping out at the litter pick. Thank you to the runners who gave up their time to come along and help.
All the South By Five races have a litter pick the day before. Watch this space.
Second big lap to complete and home to rapturous applause, more photos and snacks! If you listen carefully there was even some abusive words levelled at the Race Director about how un-level the course was! Especially that uphill finish!
Finishers
With Duncan Robinson (Giffnock) having taken the tape here last year, Kieran Cooper (Cambuslang Harriers) came back to reclaim his crown.
A super impressive 16.44 taking the course record. Second over the line was ultra marathon specialist Grant Jeans (unattached), holding off a late charge from David Hepburn.
Ladies race went right to the wire. Jenny Brown squeezing Hannah Bayes both officially crossing the line in 20.44, but Jenny taking the top spot by a pointy knee!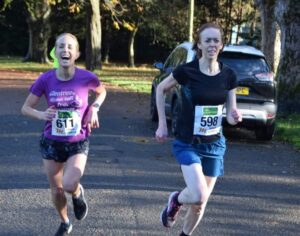 Third spot taken by Elaine Somerville (Milburn Harriers) in 22.02. Although some fuddery from the race director on the day, led to a mistaken podium photo with fifth place finisher Laura Lennon (VP-CoG) included! My apologies to those involved.
It was great to see, as always at our events, so many runners cheer over final finisher Shona McCormack.
Well done to all who took part, we look forward to welcoming you to Linn Park on the 20th November.
Full results for Kings Park are here…
Glasgow SE Foodbank
Thanks so much for your donations towards the good works of the Glasgow SE Foodbank 
Your help is much appreciated, and we look forward to your continued support throughout the South By Five Series.
Thanks
Hi-viz heroes help the world go round. Thanks from us and you guys are expressed to: Elspeth (FoKP), Charlene Harris, Angela O'Donnell, Sarah Smith, Phil Knight, Liam McGregor, David Powrie, Graeme McNay, Paul Fletcher, Jacq "Instagram" Mckeon, George (FoLP), Kevin Queenan, Elaine and Sarah, Keira, Jim the Dog, Brian Hughes, Katy Tallon, Beccy, Nicola Dawson and wee sidekick
Also thanks to Tunnocks for the post race snacks.