Last Race
Upcoming Races
"The Dunky" - Duncan Macfarlane Race
South By Five
Sx5 Linn Park race report and results
Lx5
Seventy-seven of you returned to charge down the starting hill in Linn Park. Joined by another thirty four in their first series event of 2022, leaving this year's South By Five the most popular yet.
A brief shower as the marshals were deployed was the last of the rain, which had poured in the wee hours. This shower had registered runners huddling under the trees, eagerly awaiting the starting hooter. Mud and puddles were the order of the day. Perfect!
Hills and mud
With previous year's participants declaring Linn Park "the best in the series", we knew we had some mud and hill lovers in the pack. Don't let this declaration put you off the rest of the series though, each race offers it's own little gems, and everyone has their own preference!
The Linn Park route has a couple of stand out features. Stand out for the route, never mind the beauty of the park being stand out enough. Anyone who took part won't need additional descriptions other than 'that hill' and 'that puddle'.
For those that didn't take part…..'that hill' starts with ankle deep mud sucking at your shoes before increasing gradient has the muscles burning before the top. And the second time it's even muddier. Yup, twice!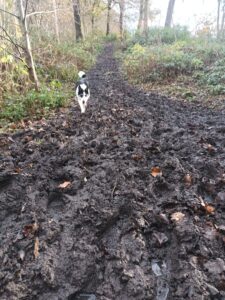 'That puddle', affectionately becoming known as 'the duck pond'…..
This year runners were gently encouraged to run through it! Some even dived through, Klinsman style. Take a bow Jamie Wieland.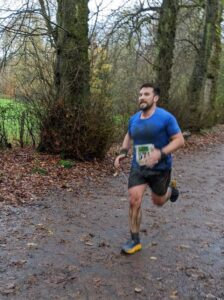 Ray Loughran (Shettleston Harriers) was unlucky enough to lose 20p in the pond, but claimed to have found a pound whilst down on his knees looking for it! Silver lining in every cloud.
Almost all the runners managed a good covering of mud. Some notable exceptions..it was observed that Melissa Williams (Westerlands CCC) was very clean, but her man Gordan had enough mud for the two of them!🤣
Podiums
David Hepburn took two steps up from Kings Park, taking first place in 19.30. He commented "Got to make the most of Kieran [Cooper, Kx5 winner] not being there!". Grant Jeans bemoaned his shoe choice, struggling with the mud but still taking another great second place, narrowly missing on sub-20 in 20.04. Keeping up the family name, Richard Cooper completed the men's podium in 20.24.
The women's steps were filled by the dominant Jenny Brown in 23.40, a full 2 minutes slower than last year when conditions were very different! Janis MacArthur followed up a strong performance in Kings Park, with the improvement she'd demanded from herself by taking the second step in 24.49. Ayr Seaforth's Laura Wallace returned to Linn Park after missing last year, and took the third spot in 24.57
Full results
Click here for the full results
Litter Pick
Race day was preceded by litter pick day on Saturday. Thanks to those that came along to support us. There will again be a litter pick the day before the next race in Rouken Glen.
Food Bank
Once again, thanks for your amazing support with donations to Glasgow SE Foodbank. Your donations in lieu of entry fee go a long way to helping struggling families in the Southside.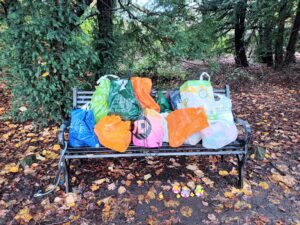 Friends of Linn Park
Friends of Linn Park were on hand at the finish line to serve up warming tea and coffee. Thanks to them for supporting our event, and all the continued work they do within the park.
Learn more about their work on the Facebook page LOVE LINN PARK
Thanks
Lynn Connor, Debbie Wright, Kirsten Macleman, Kirsty Milton-Moir, Kristin Sauer, Graeme McNay, Victoria Tinney, Ruth Craddock, H, Brian Hughes, David Powrie, Colin Weir, Romy Beard, Zuzana Rencova, Jo McKnight, Lily, Rodger McEleney, Laura Ritchie and tail runner Kirsten Reilly
Next….
South By Five leaves Glasgow and heads to East Renfrewshire for a visit to Rouken Glen on 4th December.