Last Race
Upcoming Races
"The Dunky" - Duncan Macfarlane Race
South By Five
Rouken Glen Trail Race – race brief
Rouken Glen Trail Race

Welcome to Rouken Glen Trail Race, hosted by Acorn Trails. Thank you for entering.
Registration
This will take place a short walk from the Davieland Road/Whitecraigs train station entrance to the park. ///knots.skirt.silly
There is parking within Rouken Glen's car park. Bear in mind these are a little distance from race registration and start. Also parking can be found on Davieland Road, and the nearby Whitecraigs train station (fees may apply).
Registration (///stole.smashes.town) is from 9.45-10.15. The start line is a short walk from the race control, so registration will definitely close at 10.15!
Race will start at 10.30, preceded by a quick brief.
Toilets
Toilets are available in Rouken Glen at the main pavilion, and the café on the boat pond. These are public toilets. Please use these if required rather than the parklife.
Bag Drop
Council regs don't allow us to erect a shelter for bag drop. There is a sheltered area of trees at registration/finish line if you wish to leave something. Anything left, as usual, is at your own risk.
Route
The race route consists of two 4km loops, then a short downhill stretch to the finish line. Great for that sprint finish.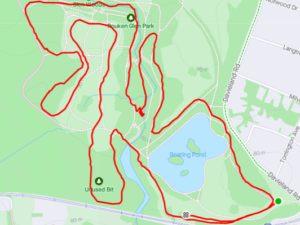 It will be well marked and marshalled, there shouldn't be any need to worry about getting lost.
Water
There will be water on the route, and at the finish. Our supplies are limited though, so do please consider bringing your own bottle/refreshments.
First Aid
A fully trained first aider will be available at the finish area. On the off the chance you pick up any cuts, bruises or scrapes please ensure you get them tended to.
Timing
Manually timed, so please ensure your race number is clearly visible on your tshirt/vest/shorts.
Results
Will be posted as soon as possible after the event – bear in mind, as above, it is manually timed.