Last Race
Upcoming Races
"The Dunky" - Duncan Macfarlane Race
South By Five
RGTR 2022 – Race Report and Results
Rouken Glen Trail Race
The morning started with a light shower. My rain dance had worked. We were going to get some mud!!!
Sadly it past quickly, and the end result was a plague of flies, and a hot humid start line.
With a blast on the horn, runners streamed down the hill for a fast frantic start. Taking in the hidden pockets of the park, the "unused bit" and down into the Glen itself, runners were treated to the gem that is Rouken Glen. We even managed to find all the secret ups and downs. Who wants a flat race anyway?
The race
First lap saw some great tussles throughout the field. It was fun to see some runners choosing a "racing line" down the zig zags. It wasn't necessarily the optimum route, so we allowed this as an option!
The lead changed hands when the front pair had a moment of navigational fog! But despite a little bit of extra exploring, Csoban Balogh, and Mike Holcroft regained the front of the pack, and took the top two podium steps in 32.10 and 32.20 respectively.
Podiums
Early leader Euan Convery (Garscube Harriers) held off a challenge from Cambuslang Harriers' Chris Upson to complete the men's podium spots.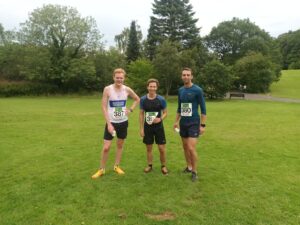 The female podium went right to the wire. Race winner, Nicola Mcbeath (Giffnock North) the comfortable winner in 39.57. Although I'm not sure the weather conditions allow for the use of the word 'comfortable'!!
The next three runners were separated by just 7 seconds!
Kaz Macintyre taking, what she deemed to a be surprising second place. Anyone who knows Kaz were not surprised!
Laura Lennon (Victoria Park-City of Glasgow) put in a sprint finish taking third place just metres from the line, narrowly pushing Tonya Sheriden into fourth spot. This was Laura's second podium in two Acorn Trails events!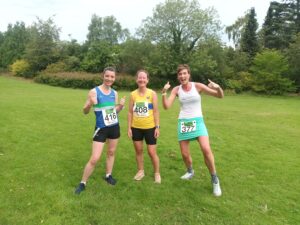 Top spots were rewarded with a baby tree and a Migo Sports voucher.
Results
Full results are available here
Photos from various folk are available on the Acorn Trails Facebook page, the Acorn Trails Pinboard and Kenny Phillips Facebook.
Litter Pick
Saturday saw an Acorn Trails team take to the route to conduct a litter pick. It was very pleasing to note that how little litter was in the park, around the route.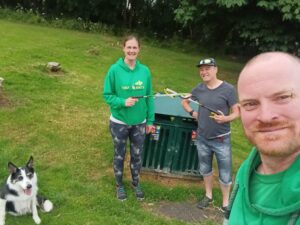 Thanks
A small army of hi-viz volunteer heroes helped guide runners around the course, all the while being plagued by those flies! Huge thanks to: KMAC & Super Sophie, Natalie and Freya, Brian Hughes, Michael Devlin, Stuart Ainslie, Sheila Lewis, Paddy Gibbons, Sean Macintyre, Kathryn Sinsheimer, H, Deidre Hoyle, Callum "Little H", Lynn Connor, Terry Sinsheimer, Katy Tallon, bonus appearance from Charlene, and of course Jim The Dog.
Thanks also to Migo Sports, Tunnocks, and Morrisons Giffnock
Next
Next up we have Clyde Stride Ultra Marathon on Saturday. If you available to marshal, then please email michelle@acorntrails.run
Migo Mile will take place on 31st July in Queens Park at 09.30. Entry is free but please sign up in advance at www.entrycentral.com/migomilejuly
Also now open is the Duncan Macfarlane Race, October 23rd in Mugdock Park. An 7.5km trails race of two laps. Enter at www.entrycentral.com/dunky  – first 25 entrants just £10!