Last Race
Upcoming Races
South By Five - Rouken Glen
Pollok Park Trail Race
Dunky 23 report and results
Having just read last year's Dunky race report and results, I figured I could almost copy and paste!!
A week of torrential rain ✅
Great weather for the race ✅
Family holiday in Greece ✅
Course record ✅
Amazing day ✅
Thanks to Tesco, Milngavie and Migo Sports ✅
A race report doesn't get much easier eh?
One of these years the weather is going to come and get us!
Club representation
It was amazing to see so many different clubs on the start line, with participants from twenty different clubs including St. Albans Striders representatives!
Duncan Macfarlane in his day ran for Victoria Park, so it was particularly pleasing to see a great turn out from the modern day, Victoria Park-City Of Glasgow. We hope you like the medals, which depict the old VP club vest that Dunky ran in.
Macfarlane representation
As always the Duncan Macfarlane Race is well supported by his family with daughters, grand-daughters, great gran-daughter and a son-in-law all playing a part in the event on the day.
We also had some McFarlane's and Macfarland's creeping onto the entry list as well. No relation, but very welcome all the same!
Results
At the top I was able to check the box for a course record. Well done to Annie Walters on setting a new women's course record of 30:30, taking nearly a full minute off the previous record.
She was joined on the podium by Epic Trails' Nicola Dawson (Westerlands CCC) in 32:03 and Laura Lennon (VP-CoG). Nicola has now appeared on all three podium steps in the three runnings of the Dunky, and Laura is another regular on the Acorn Trails podium.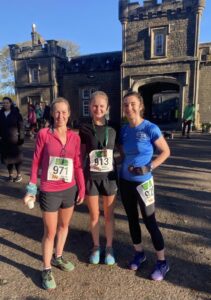 Overall race winner, Chris Upson (Cambuslang Harriers) crossed the line in 27:26, surprised to secure the top spot, in the belief he was chasing down two other runners! Chris is no stranger to a podium having helped the Cambuslang V50 team (Chris is V60!) to a team gold at the Lindsays National XC Relays in Cumbernauld the day before!
He was joined on this podium by Greenock Glenpark's John Logan, after what Chris described as a tough battle, having to "use every bit of mental strength" to hold off John. John only took up running during lockdown! There's hope for us all yet!
Third place was Bryan Mulgrew (Bellahouston Road Runners) in 28.34. Bryan worked his way up through the pack having just reached the start-line as the race started. He'd rushed to the park after finishing a night watch at 9am!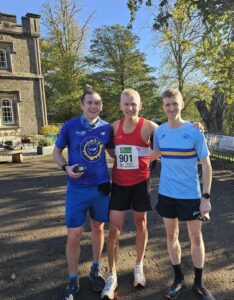 Full results are available here
Photos
Several of the volunteer team took photos on the route. Some of these have been uploaded to the Acorn Trails Pinboard group on Facebook.
The official photos will also be shared via our Facebook page this week. Our photo guy, Robert, is fighting with the volume of photographs he took, and Facebook's amazing upload tool!
Thanks
Several of the runners on the day remarked on the amazing volunteers. Further comments were made on social media and Strava.
A big thanks to our hi-viz heroes without whom we could not put on these events.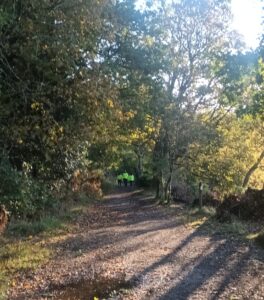 Credit to: Tony McGale, Brian Hughes, Charlene Harris, Sharon Kay, Emma Sharp, Kathleen McGee, Richard Evans, Paul Fletcher, Steven Gilligan, H, h, Robert Hill, Phil Knight, Nick Dowley, Debbie Wright and Paige, Keira Hill, Kathryn Sinsheimer.
Thanks also to Tesco, Milngavie for post race fruit and Migo Sports for continued event support.
Next…
We rush headlong into the sold-out South By Five series, starting at Kings Park on Sunday 5th November. We look forward to seeing some of you there. If you didn't manage to secure a spot on the start line, we're always on the look out for volunteers to join our hi-viz heroes. Drop us a line, your help would be greatly appreciated.