Last Race
Upcoming Races
"The Dunky" - Duncan Macfarlane Race
Sandhead 10 - coming soon
Sandhead 10 report and results
The Sandhead 10 2023 may have been small, but like a newborn puppy, it was perfectly formed!
Thirty six runners lined up under the grey skies of Luce Bay, the wind tugging at loose clothing and whipping the flags. The rain coming in at an angle nearing horizontal more than vertical, the stage was set!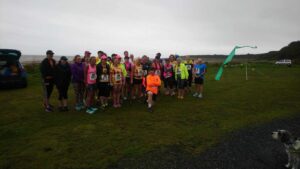 With no Jim the Dog on duty to bark up a starting frenzy, it was left to Michelle to see the runners on their way.
The race
Instantly the racing snakes galloped off parallel to the beach racing towards the tricky sand dunes. A little further back, the less competitive participants chattered and laughed as they set off to enjoy their 10-mile journey to Stranraer. Several of them having never covered over 10k, and more than a few taking part in their first trail race with little idea what lay ahead.
And what was ahead? This route is truly multi-terrain. Anyone trying trail running for the first time was given the opportunity to try out a multitude of underfoot conditions…..grass, sand, rocky beach, vegetation-strewn dunes, tarmac, dirt path, cattle field, cow pats, leg sapping long grass, mud and finally a good old fashioned sea front pavement and a finish down the pier! Phew. I'm tired just writing all that! Oh and despite being a coastal route, it certainly was not flat!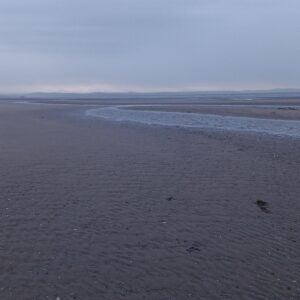 Results
Those racing snakes stretched out a quick lead over the dunes and each of the leading two, each overcoming their own minor deviations from the route (despite passing signs pointing the opposite way to which they ran 🙈).
Callum Wallace (unattached) ultimately pulling out a good lead over Bryan Mulgrew (Bellahouston Road Runners) speeding past the Oyster Festival and a quick lap of Agnew Park to cross the line in a rapid 1.09.03
Mulgrew crossed the line in 1.19.16, with third place Michael Thomson (Galloway Harriers AAC) starting to get a wee sniff of blood straining to catch Mulgrew, and heading down the pier just shy of 2 minutes behind in 1.21.11.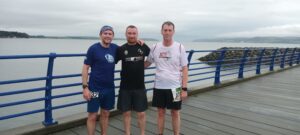 With several Lornas on the starting line, it seemed inevitable that one would feature highly in the pecking order! Lorna Mitchell (Greenock Glenpark Harriers) took 4th place overal and first female in a time of 1.24.10. Surely an achievement which tops her Triple Crown last year 🤪🤪 (Highland Fling, West Highland Way Race, and Devil o' the Highlands Footrace).
Second place Martina Moore, was 5th overall and 2nd Galloway Harrier in a fantastic time of 1.31.02, with Kim Hughes within sight to cross the line in 1.32.50.
Full results are available here.
Thanks
Huge thanks to our marshals, Callum Wallace, Cha Harris, Ruth Harrison and Ziggy, Freda Watson, Paulius Peciura, and the impromptu helper (wife was running) at Commerce Rd!
Special thanks to Rhins Runners and Jack especially! Also Tigh na Mara Hotel and Migo Sports.
Thanks to Simon at McCulloch Coaches for allowing us to use the bus as a weather shelter and registration hub!
A donation will be made to RNLI on behalf of the participant donations and Acorn Trails.
Next…..
Next up, we have the Duncan Macfarlane Race on 22nd October. There's still a few entries left. The South By Five series begins in November and will take us through the winter. This is however sold out.
2024
Next year's date for the Mull of Galloway Trail events will be announced as soon as we can. Hopefully the full Trail will be available to host a marathon, so we can fill the Mull with runners and make this event economically sustainable.