Last Race
Upcoming Races
"The Dunky" - Duncan Macfarlane Race
Sandhead 10 - coming soon
Glorious return to Rouken Glen
A return to Rouken Glen. A glorious return. It was almost like a summer's day!
A sell out field took to the trails and paths through the Glen, many discovering parts of the park they were unaware existed before the barking beast, Jim The Dog cheered them on their way from the start.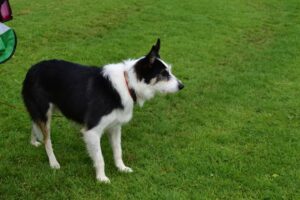 A continuously varied route taking in muddy trails, grassy meadows, woodlands, inclines, declines, zig zags, tarmac and a boat pond! One runner even described seeing a beach 🤷🤷
Twice round a 4km loop with a fast downhill start and finish, with 100 like-minded folk. What a way to spend a Sunday morning!
Several runners expressed a desire to come back and run the route at a more sedate an enjoyable pace! John Henderson (Cambuslang Harriers) pointed out he'd only noticed the railway line adjacent to the route on his second lap!
Scott McLeod (Glasgow South Road Runners) termed the route "nice and horrible" but in the next breath began plans to return and run it as part of a Sunday long run!
Results
Kieran Cooper (Carnethy HRC) fresh from running mountainous routes in France took the early lead. Having warmed up on the route, he used the route knowledge to his advantage.
Taking the first lap in just over 15 minutes, he would eventually take the tape in 29.38, nearly 3 minutes in front of second place John Logan's 32.24. Cooper also setting a new course record in the process.
Third place was Callum Wallace. A surprise late entry following some cajoling from the Acorn Trails RD after Wallace was still getting his breath back at last week's Run The Blades Ultra! Ultimately Wallace had FOMO. He's a big Acorn Trails fan! He couldn't resist, signed the dotted line and took third place in an excellent 33.46
Not far off the overall podium, Finn Boyd took the top step in the non-binary category in a time of 35.00, with second spot filled by Robert Crangle in 43.54.
Laura Lennon (Victoria Park City of Glasgow) improved on her 3rd place in '22, to take the top female spot. Her time of 38.46 another new course record!
Laura was pushed hard, with second female Karen McQuarrie over the line in 39.04, followed by Acorn regular Janis McArthur in 39.38.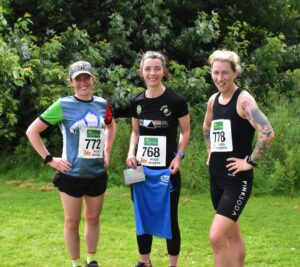 Full results can be found here.
Age category winners
Contested age category winners were awarded with a free entry to the Duncan Macfarlane Race in October. Anyone else interested in entering the Dunky can do so here
MS – Kieran Cooper (Carnethy HRC)
M40 – Denis Coleman (Run Rhaw)
M50 – Colin Wylie (Giffnock North AC)
M60 – John Hendry (Cumbernauld Harriers)
M70 – Stuart Irvine (Garscube Harriers)
FS – Laura Lennon (Victoria Park City of Glasgow)
F40 – Lucy Brandt (West End Road Runners)
F50 – Sharon O'Leary
F60 – Katrina Kynaston Tooth (Bellahouston Road Runners)
Photos
Acorn Trails photos were taken by Robert Hill and are available on the Facebook page
Other marshals also took photos which have been shared to the Acorn Trails Pinboard
Kenny Phillips was also out on the course. His photos can be found here
Thanks
The support from our amazing Rouken Glen volunteers is always welcomed by us and the runners.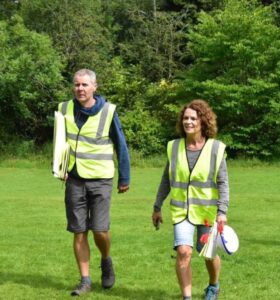 The Rouken Glen team were: Robert Hill, David Powrie, Melissa Mclarnon, Phil Knight, Garry Smith (and minis), Rachael Goslan, Stella McCulloch, Moira Paterson, Paul Fletcher, Andrew Davies, Richard Evans, Gordon Paterson, Blythe Lindsay, Michelle Shannon, Charlene Harris, Sam Hampton-Smith, h and H, Jane Marshall, Dayle Burnside, Jen Conway, Nick Dowley, Kristin Geppert, and Debbie Wright.
Also thanks to Morrisons Giffnock Community Team, Tunnocks and Migo Sports for their support.