Last Race
Upcoming Races
"The Dunky" - Duncan Macfarlane Race
Sandhead 10 - coming soon
Qx5 report
It's over. Wait what? How did that happen. Another South By Five come and gone. Absolutely flown by! And already looking forward to the next one!
The Finale
The last race saw us head to Queens Park. The start and finish of the inspiration South Side Six race.
True to heritage Qx5 keeps to that start and finish….so don't blame me for those steps and that hill finish. Blame South Side Six!
What you can blame me for though is THAT other hill!🤪 Twice!
A re-route this year from previous iterations, saw a bit more added mud and some ups and downs. And we know you all loved it!
Not only was there added uphill, we added some downhill too! What goes up…..
There's always a but….the downhill was muddy, slippy and required you to duck under a low branch!
Starting to sound very South By Five! The new course fits in beautifully.
The five previous races have been awesome! We've enjoyed hosting them and your feedback has been great.
How do we top that for the Finale?
Aside from adding some mud and hills, we added the wee piece d'la resistance!
A fully regaled piper to take you to the start, and encourage you up that final hill! It's going to be hard to top that! Our piper Liam, legend that he is, also popped by the local care home to pipe in the haggis for Burns Night. A true gentleman!
Good Causes
Throughout the series we, with your help, have supported some good causes.
Donations for the Glasgow SE Foodbank have equated to enough to feed a family of 4, three meals a day for 13 weeks! That's a quarter of a year!
Not to be outdone on the trolley dash, Qx5 over filled a full shopping trolley with pre-loved running gear, that was donated to Refuweegee.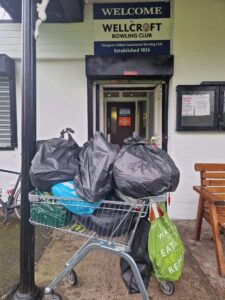 Our chosen charity for South By Five, was once again, Give A Dog A Bone. If you don't know about their work, you should take a couple of minutes to read up here. Thanks to Kas and Diva for coming along on the day.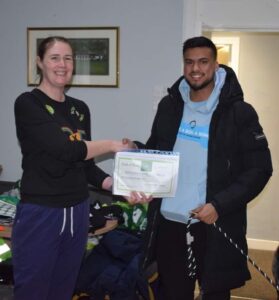 We donated double last year's event, with a whopping £500!
As part of our Tee or Tree initiative, we always offer the option to rewild plant in the Highlands instead of purchasing merchandise.
South By Five this year resulted in another 58 trees being planted.
And last but not least, by offering South By Five free to enter, we helped some of our participants take part in running race events which they might otherwise not have been able to afford, and welcomed them into trail running and the Acorn Trails community.
Thanks so much to you all for your continued support.
Prizes
Following on from above, and because you're all so supportive, we still managed to drum up some prizes!
These ranged from the usual podium places to some more off the cuff awards:
Marshal's Runner…selected by the hi-viz heroes throughout the series.
PRIZE….£15 Migo Sport voucher and a guaranteed entry for South By Five (can't offer a free entry eh?)
Nominations were: Jamie Wieland, Richard Cooper, Colin Gray, Amy Gray, Kathleen McGee, Jenny Brown
And the winner was…….Amy Gray!
Runners Runners… selected by you guys.
PRIZE sponsored by Migo Sports £100 voucher
Nominations were: Kelly Ludwig, Angus Robinson, Derek Miller, Kathleen McGee, Laura Lennon, Charles Gorrie, Amy Gray, Emma Bowden, Jamie Wieland, Laura Wallace, Ray Loughran,
And the winner was…Kathleen McGee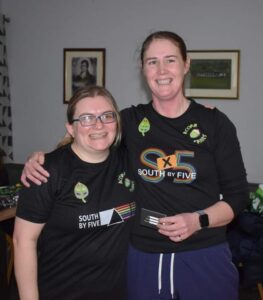 Runners' Marshal selected by you guys.
PRIZE sponsored by Migo Sports – £100 voucher
Nominations were: Liz Deans, Rachael Goslan, H, Richard Cooper, Blythe Lindsay, Charlene Harris, Lynn Connor, Jim the Dog!
And the winner was…John "H" Roach (the noisy, insulting, Benny Hill one!)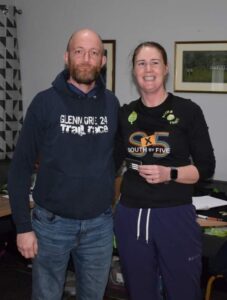 Commitment and Dedication: (guaranteed entry)
Using public transport to travel from Edinburgh, then running from Buchanan Street bus station to the start of each race…..Julie Atkinson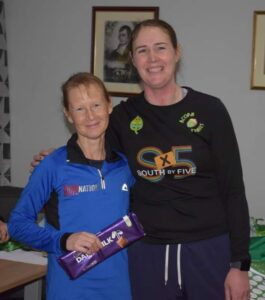 Infectious Enthusiasm: (guaranteed entry)
The winners:
Laura Lennon and Arthur O'Brian
(If you didn't know them before Sx5, you probably do now!🤪. Their energy just bubbled over. Fantastic)
Ducking for 10 Bob Award (guaranteed entry)
For falling in the duck pond at Linn Park with grace! "Lost a pound and found 20p"….Ray Loughran
The Jurgen Klinsman Award (guaranteed entry)
For diving head first through the duck pond, and all round loving of the mud…..Jamie Wieland.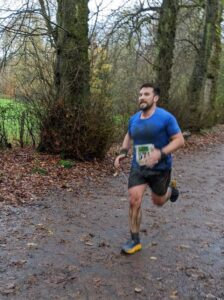 Mega Marshals (guaranteed entry)
Lynn Conner was welcomed into the Acorn Trails Grove, a place reserved for those amazing hi-viz heroes who just go way above and beyond!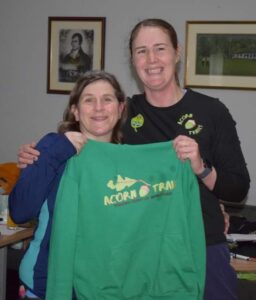 Graeme McNay's dedication to the current series was noted, having volunteered at all six races.
Kevin Queenan was acknowledged for the awesome work as the series photographer.
Brian Hughes, for all his continued amazing support, and awesome help through the series, and his loud sidekick, our Jim the Dog!
A recently discovered diamond, Charlene!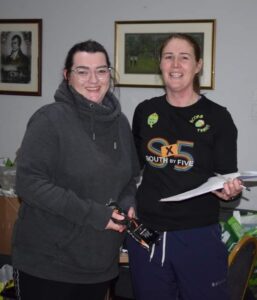 And the wee gold nugget that is our first aider, Debbie.
Series Results
Complicated…..see previous reports for explanation! But here they are…..
In brief finish 5 from 6 to be a series finisher, and counted in the standings.
Overall series winners
🥇David Hepburn & Jenny Brown/Hannah Bayes (tie)
🥈Grant Jeans
🥉Callum Wallace & Janis McArthur
V40 Eddie Neilson & Laura Wallace

V50 Richard Stark & Sharon O'Leary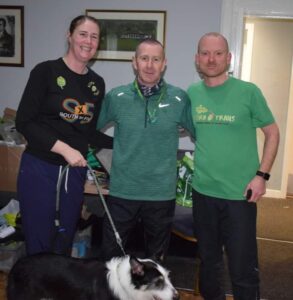 V60 Craig Brown & Deidre Parkinson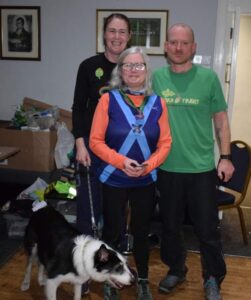 Race Results
With the series finale in mind, it's sometimes easy to forget Qx5 was also an event in it's own right. Full results
On the day podium spots were filled by:
🥇David Hepburn & Hannah Bayes
🥈Callum Wallace & Laura Lennon
🥉Lukasz Pudlo & Ruth Craddock
But those three steps were not the only climb of the day. You were all amazing, and all climbed your own steps to reach the toughest finish line of the series.
Photos
Once again Kevin Queenan was on hand to capture your smiles, grimaces and gatherings. His event photos are available on our Facebook page here.
As throughout the series he was backed up by marshals pointing pesky phones, and the Linn Park camera snappers, George and Ian. Their photos are posted here.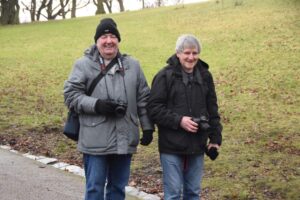 Merch
If you ordered merchandise and were unable to collect it at Qx5, it will be available to collect from Migo Sports until the end of February, at which stage it will be donated to Refuweegee:
Alison Brown
Jules Collins
Roberta Fletcher
Graham Marshall
Victor McGregor
Paul Mefford
David Sawyer
Colin Wylie
Stuart Macdonald
Garrrry Smith
Thanks
How could we do this without you all? Starting with the runners, huge thanks to you all for turning up, knowing that it's going to be a tough shift! Without you there is no event!
Without our hi-viz heroes we wouldn't be able to offer you the quality events that we (hope) put on. Throughout the series our volunteer army have been fantastic.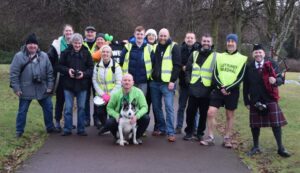 On the day we'd like to thank: Lynn Connor, Katy Tallon, Liam McGregor, Kev Queenan, Debbie Wright, Marina McCallum, Mikey Gowans, Graeme NcNay, Annemarie Pickersgill, Colin Weir, Brian Hughes, H, h, Rachael Goslan, Liz Deans, Charlene Harris, David Powrie, Ian Cochrane, George Wilson, Sam Hampton-Smith and Finn.
Lastly on a personal note I'd like to thank Michelle for all the help she gives me behind the scenes and up front with the on the day race brief. Public speaking petrifies me, so it's great to have her able to be so good at it!
On top of that, we wouldn't be Acorn Trails without Jim the Dog. He's the sloppy saliva that glues it all together and keeps us smiling!
So here ends the Oscar acceptance speech, and the 22/23 South By Five.
Next up
We we're hoping to bring you a brand new event in March, but unfortunately that got tangled in red tape and won't happen this year.
The Dunky, October 22nd, will open for entries soon!
Strike whilst the iron is hot and secure your entry for this guaranteed sell out event! We've even got an early bird discount for Sx5 entrants! Use your Sx5 race number on entry to claim!
See you there!