Last Race
Upcoming Races
South By Five - Rouken Glen
Pollok Park Trail Race
A Load Of Running – Oh heck!
This weekend we did a heck load of running, it was fantastic. The weather couldn't have been finer and I found myself in the company of some really great folk.
Run after run
After parkrun me, mum and dad parked up in Toddholes carpark and ran up Meikle Bin. Up, up up!!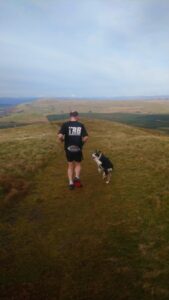 The views over Loch Carron were something else, I wanted to dive in but was advised against it! The day was crisp and clear and the views just got better and better, so much so I did the last sections backwards! Well, that and I was fairly sure someone was going to produce a frizbee or a sausage at any minute so I had to be ready!!
High on life
Before I knew it we had reached the top, aye karuuumba! I was the king of the world!! You could see for miles! So we took in the view and took a couple of selfies. I tried to knock everybody over as best I could, and then we headed back down.
Now I was high on life, I just wanted to chase something, anything!! Then dad picked up something white and launched it down the hill, I gave chase immediately and caught it in my mouth..
Woooooooooahhhhhh!!!!!
What is this delight?! Cool, refreshing and chaseable! I tanned the lot. Snow cones!! Yes!! That's a game that'll never get old, and it didn't. I kept going till we got to lower ground and ran out of snow! I was refreshed and giddy though so the 5 miles back through the forest were a dream. Towards the end I did start to wonder if the Bash mobile would ever appear but she did, ahh, back at the Bash, time for a well earned.. Zzzzzzzzzzzzz
Kudos my Strava…..
🐾
Doggy Brunch!!
On Sunday I had heard a whisker of a whisper. I was to be taken to the Church on the Hill to meet some four legged pals for doggy brunch! Yaaaas!!
We got up waaaay earlier than brunch time though and picked a couple of human pals up in the Bash. OK, what's going on here? Yawn.. Zzzz… I woke up in the carpark of the Kilpatrick Hills. Eeeeeeek!!!! We are going for another load of running!!
Poor Patrick
And we were off again. I was as giddy as a goat and was running from the front to the back of the pack with ease as the humans trudged up the first 3 mile hill! After that we were off road, yaaaas. I was in my element, jumping at top speed through the frozen bogs. At one point I misjudged the ice and was chin deep in bogfest, awesome!!
The route took us over all sorts of terrain, soft grass, heather, squelchy mud, fields, up hills, down hills, more hills, forest tracks, bogs, bogs and more bogs!! It really was a great route, and I'm not just saying that because my dad created it!
Dad was at the front of the pack with his fast pals, with me leading the way! And mum was at the back having a social and a giggle with Kirsten, man those two can gab!! I had to cover quite a few miles, that strava didn't count, running back and fourth to make sure they were OK! They're worth it though. And the banter back there is always entertaining.. And usually something to do with cheese!
The weather couldnt have been nicer and the company was first class. Scotland was showing off once more and I hardly realised we'd done over 13 miles, tough miles at that! When we'd all made it back to the carpark, the cheese girls giggling up the rear! Rodger produced some orange bottles of juice. Everyone was beside themselves, what a hero they said.. Not sure why they didn't just dunk their heads in the refreshing muddy puddles with me but hey, humans can be a strange bunch!
If Dog was A DJ… This would be his Church
We got dried off and headed back in the Bash. Ope.. Ope.. Did someone say Church On The Hill??.. Zzzzzzzz dreams of kudos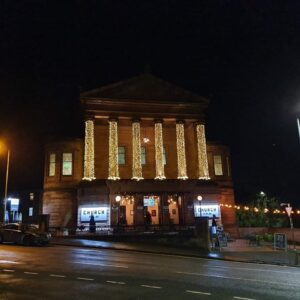 Yikes, I needed that! Where are we now? The Church! Yaaas!! Doggy brunch!.. Doggy brunch is over. The run was so good but I couldn't half go some scran now…Ah ha!! Micheal! All is not lost! He saved me some!! And a doggy beer! What a guy. I inhaled it. Compliments to the chef, that was something else! Sausages, biscuits and mash. What a way to end the perfect weekend after a load of running. My human pals ate very well too. Bliss.. Zzzzzzzzzz
🐾
PS More of my tails are here….
First published on The Run Bible 21/11/2019