Last Race
Upcoming Races
South By Five - Rouken Glen
Pollok Park Trail Race
Five For Fibro
More Than Fibro
A wee Facebook notification pinged up. Heather had tagged me in a discussion of someone looking to create a running event to promote a new charity. Acorn Trails has an ethos of supporting charity via our events, so I was instantly intrigued.
I met Sharon on the Green in lockdown Glasgow to chat through her idea and learn more about her and More Than Fibro. A fledging organisation jumping through the hoops to become a charity. This was all news to me. I was never aware how hard it was to start a charity.
Sharon told me her story about her battle to deal with her fibromyalgia. This is a relatively newly diagnosed condition – but not a new condition. Sufferers have struggled for years to come to terms with the effects the condition has on their lives without the recognition that it even existed. Little known about and little general awareness was why Sharon started More Than Fibro. She wanted to help those who had struggled through her battle. She was winning her war, many others are not. More Than Fibro provide amazing support services to those affected by the issues associated with fibromyalgia. I highly recommend reading more about Sharon and her story here.
Five For Fibro
Sharon was thinking big. She clearly has goals and future ideas, which is fantastic to see after her struggles in recent years. A desire to help others is helping to rebuild her life and her self confidence.
Lockdown had other ideas. From the get go it tempered our approach towards Five For Fibro .We never knew what we would be able to offer. And the uncertainty meant it was never going to be what we talked about that day on the Green.
Still this is an event report. I can waffle all day about the trials of getting an event on. Right up to the last minute it looked possible we would be able to tag a "real" event onto the end of the virtual event  it had become. Restrictions looked to be lifting from the 17th May, and there was a snifter of a chance of an event. Once again, the regulations got in the way and that glimmer was snuffed out. A now familiar story .
We went virtual and the event went on…..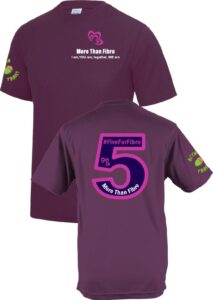 Friendly…..
From the get go we wanted this event to be open and accessible to all. The "Friendly" option was conceived , not to imply that that the participants were not "Friendly", but to imply this option had that inclusive nature.
The Friendly Five was open to some creative interpretation on how participants wished to express their "5". Some chose to just take a nice leisurely walk or jog with their friends. More Than Fibro founder Sharon, took her "5" on the road, completing a 5k each day in a different location whilst promoting the work of More Than Fibro.
She completed her last 5k to great fanfare at Drumpellier Park. Inspiring others is something Sharon does well, and others took to the daily challenge. Karyn Prentice also completing 5k a day amassed more than 70000 steps during her challenge!
Lynn Connor,  lover of the buff she purchased, took a 5-mile walk in the beautiful Rouken Glen.
Too many entrants to list all your activities, but a huge congratulations to you all on completing Five For Fibro.
Fast….
The other option on offer was the "Fast" 5k. Now this didn't mean you had to be speedy. This just meant that your times would be recorded and there would be results. Many of us runners are driven by results and times so it was a great option to offer people.
And the results are in…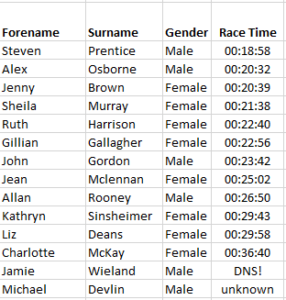 Steven Prentice set a blistering benchmark pace. He's claiming an 18.58. His Strava is claiming a 19.02, and we all know Strava never lies!!!
The ladies' race was a hotly contested event. This has been a common theme for all our virtual events this year.
Ruth Harrison set herself a PB target on entering. No mean fit going up against yourself and the clock. She did however succeed. And happy about it she is!
In a self-created race of 3, Jenny , Sheila and Gillian set themselves against each other to push themselves onwards. Jenny in 20.39, chased by Sheila in 21.38 with Ruth's PB pipping Gillian into 4th place on the results board
Balega
Balega supported the event with thanks to Mark Gallagher. Five (obviously) lucky winners were drawn at random to receive a pair of their fantastic socks. The winners should email fibro@acorntrails.run with details of the shoe size.
Balega's motto is more than applicable to this event, and people with fibromyalgia:
"Go is more than putting one foot in front of the other. Go is progress."
Prize winners:
Karyn Prentice
Thomas Jack
Deanna Cowan
Charlotte McKay
Gillian Gallagher
Funds For Fibro
Whilst not being the event we set out for it to be, Five For Fibro still achieved a measure of it's initial aims. We raised awareness for fibromyalgia, funds for a supporting organisation, and spread the word about the work of More Than Fibro. The event raised over £300 for More Than Fibro from entrants, and another £360 on the event GoFundMe page (which is still open if you wish to donate!). It also more than doubled their social media following during May.
Sharon and her team are in the early stages of holding a bigger celebration event later in the year. Keep an eye on their social media for further details of that event and other way to support the work of More Than Fibro.