Last Race
Upcoming Races
Coming soon
Clyde Stride - coming soon
Pollok Park Trail Race report
Pollok Park Trail Race
Pollok Park Trail Race was a challenge. We had submitted the paperwork at short notice after the success of the Linn Park Centenary Trail Race. We were not optimistic the permits would come through in time.
On Friday 30th July we got our permissions from Environmental Health, Land and Services and Scottish Athletics. The event was scheduled for just 9 days later.
Entries were quickly made available to members of Acorn Running Club (this is essentially the Acorn Trails loyalty scheme), then 24 hours later, entries opened to the public.
In that 24 hours a route was conceived, recce'd and tweaked. Before the race started the route would be tweaked again – more grass, less tarmac – more chance of mud!
When the entries closed less than 24 hours before the race start we had filled 87% of the places available.
A volunteer call had been answered, and a hardy team of hi-viz heroes stepped forth to brave the unpredictable race day weather forecast.
On the day
All that was left was course marking. Asked the day before if I had been out course marking, I snickered, "there's no chance we could leave course marking over night without any interference". This was to prove prophetic. It seemed we couldn't even leave the course marking an hour without interference. No sooner had the course been marked, we discovered a patch of missing signage. Flags scattered into the undergrowth, and arrows left in ditches.
Unknowing how much of the route had been affected, the volunteer team assessed the route for further muggle intervention. The course was okay, the race start was delayed, but fortunately the weather held, allowing runners to mingle (at distance!) and catch up with folk they had not seen on a start line in many months.
The hooter blared, the first wave shot off from the start line. Jim the Dog tried to join them, taking the table he was attached to with him!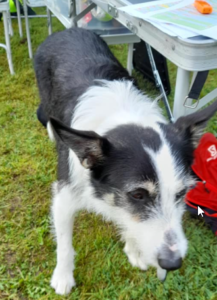 Even before the first wave left the starting field, there was a distinct leading pack. The 'older' guys in the leading pack exclaimed they "managed to hold off the youngsters until we got to the hill".
The pack kept in close contact for much of the race, splitting into three distinct pairs battles in the final field. The top 6 separated by just 32 seconds.
Podiums
Looking well recovered from his recent Team GB Under23s jaunt to Estonia for the European Championships, Duncan Robinson (Giffnock North) cruised over the line in 28:22 – a full 2 minutes quicker than my prediction for the winning time. A bet I lost with his boss at Migo Sports.
Stuart Donnachie completed a trio of Acorn Trails podiums, finishing in 2nd place just 7 seconds behind the win. This follows on from a 2nd at Linn Park, and 3rd at Inverclyde for Donnachie. Racing 'unattached' it won't be long before Cambuslang Harriers come knocking!
The battle to complete the male podium was closely contested, with Rory Clark (unattached) holding off Allistair Gray (unattached)
Continuing the strong showing from 'unattached' runners, none of the women's podium declaring a club on entry.
Jenny Brown once told me she didn't like the mud. Once again she took another 1st place on one of my routes. Nudging the clock slight over 34 minutes with a great 34:03. Nicola Dawson of Epic Trails, had pushed hard to catch Brown and took the second step. Third place Charlotte Johnston taking like a duck to water, taking third place in her first ever trail race! She promised to be back for more!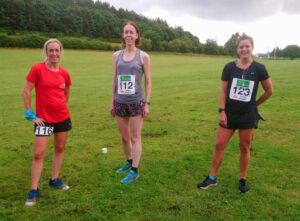 Well done to all who took part. Conditions 24 hours later are very much different! Full results are here.
JAPES
The event also saw Scott Howie take to piloting the jolette powered by the volunteers of JAPES. A great performance from them over some tricky terrain, but once again an event that was enjoyed by all. A big shout out to Nelson Liddle and the work he does putting JAPES together. Find out more here…
Friends of Pollok Country Park
Another great team of volunteers (they also added to our team of hi-viz heroes) are the Friends of Pollok Country Park. Involved in a range of projects across the park, including the new footbridge, bat and bird boxes throughout the park, new benches, representation of park users on various forums are just a few of the things they do. Find out more and get involved here.
The Pollok Park Trail Race donated £384 to their great works. Thanks to you all for your support in this.
Next up…
Our next event is the Mull of Galloway Trail Races on the 18th September. Entries for this are now closed
We have just received our permissions for the Duncan Macfarlane Memorial Race. This will take place on 24th October in Mugdock Country Park. Entries will open to Acorn Running Club members on Friday 13th at 17.00. Open entries will be on the 14th from 17.00. Another 7.5km of beautiful trails.
The six-event series South By Five kicks off in November will entries already 2/3 sold out!
Thanks
Once again, huge thanks to our amazing team of volunteers without whose help this event would not have gone ahead:
Shona Brydson, Paul Collins, Lynn Connor, John Corbett, Liz Corbett, Alison Gay, Paddy Gibbons, Rachael Goslan, Sam Hampton-Smith, Ruth Harrison, Brian Hughes, Rachel Hunt, Phil Knight, Nelson Liddle, Ray Loughran, Audrey Lush, Kirsten Maclennan, Valerie McCutcheon, Rodger McEleney, Kirsty Milon-Moir, Lisa Taylor, Clare Taylor
Also thanks to Co-operative Corkerhill for the post event bananas, and Migo Sports for prizes sponsorship.
One response to "Pollok Park Trail Race report"