Last Race
Upcoming Races
South By Five - Rouken Glen
Pollok Park Trail Race
The Trails of Wrath
There's a few things I learnt on Cape Wrath Trail. Over 5 days and 4 nights of solo adventure running, I got as far as the Glencoul bothy –  335km, less than 60 km short from the finish.
1. There is no trail on Cape Wrath!
It's more of a navigational/orienteering challenge. What trail there is, it's under a bog, water, covered in bracken, heather or eroded away to a very thin slit of a trail. Don't be fooled, "trail" in the name is a suggestion and has a typo and missing a "no"….
2.  Do it with a pal.
Solitary time in the hills is my preference but this trail is long and very remote. A spot tracker on me helped my family know where I was. Accumulated sleep deprivations and hallucinations made things daft on the point of dangerous and it's a long way in for any rescue mission. I was walking around at night like a drunk person. I kept falling asleep walking and waking up not knowing where I was. One point I was convinced I was in Cairngorms but in fact I was in Sutherland way north from Ullapool.
3. Hallucinations
I heard voices more than seeing things. It was a little disturbing to keep hearing voices, especially silly hours at night on the hills. I also took a picture in front of what I thought was a famous sculpture in Torridon, a bear holding a fish! Of course it turned out to be just a big boulder 😂 I saw a lot of animals in rocks. My favourite was the Picasso frog.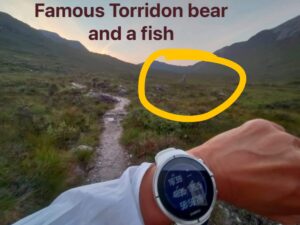 4. Supported run is the way to go!
I tried to do it self supported style carrying all my food which probably weighed over 5kg. When I was calculating before the run, I did calculate my food weight but forgot to include the weight of packaging! Do count that in too 😂. My pack weighed 10kg on the first day, the most runnable section near Fort William and I couldn't run due to the heavy pack. As I was going slower than planned, I needed to resupply on food and there were very few places I could.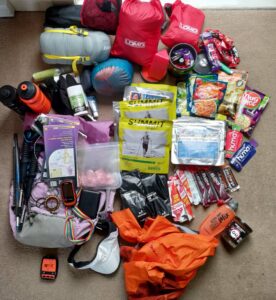 5. It's always wet and boggy.
I had 5 days of dry and sunny hot weather in Scotland. However this "trail" is never dry. You cross so many rivers, waterfalls, bogs, etc. your feet will be wet all day, all night. I did consider waterproof socks before the trip but I don't think it would have helped. Water would likely to have gone in from the top or eventually found a way in and then you are left with water that can't escape out of socks.
Squirrel Nut Butter seems to have helped a lot. Just grease it liberally everywhere making a greasy layer between your skin and water. Trench foot on my toes was due to poor self management. I should have dried my feet at least every 8-10 hours for at least one hour or more. I was going 12-15 hours a time in wet shoes and socks and that's just too long.
6. Season
My run was in August and I was lucky to have had lots of sunny daylight and full moon but this time of year wildlife is in abundance. Some sections of the trail, I found myself bushwhacking bracken as tall as me. I'd soon wise up to cover up (waterproofs and hood up, prevention the keyword) going through these sections, limiting the skin exposure to ticks! Every time bracken flicked over my face I was freaking out I might have ticks on my face 😱 so much so I asked big gamekeeper I met along the way, whether he had a mirror (he thought I wanted to check my hair 😂) and when he didn't have one I asked him if I had ticks on my face.
The trouble of solo wondering is that it's very difficult to check for ticks areas such as the back or face (another good reason to go with a pal so you can check for ticks on each other). Mirror might be a good idea but some areas of the back will be very hard to get to by yourself. Midges and deer kegs were in abundance too. As I didn't know how long some of the ticks have been on me, I am on antibiotics to limit the likelihood of getting the Lyme disease. If you go in autumn, winter or spring, you might not get ticks but are likely to be faced with wetter conditions (rivers could be in spate), colder, boggier and darker days. Choose your season carefully!
7. Foot swelling
Every time I took my shoes off and on my feet again, shoes felt tight but eventually this discomfort seemed to settle down after a while except for the last morning. Every single step caused me agony on the last day.  When the feet just didn't settle that was the first time I thought I might not finish the trail. While I still had signal and battery left in my mobile, I called Paul who was around and was supposed to meet me later on the day at the lighthouse at the end of Cape Wrath Trail.
He agreed to meet me with first aid kit, food and anything I might need potentially to carry on to the end. Doing just 1km per 50min and barely moving, Paul ended up coming to Glencoul bothy which was closer to me. I kept the trainers on for the technical rocky section down a waterfall but once I was down on flatter grassy, boggy bit by the river to the bothy, the shoes were off. Just a 3km walk to the bothy in my socks. I was not moving fast but at least I was in less pain.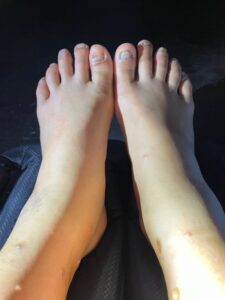 8. Knowing when to stop is important.
When I eventually met with Paul after his epic 12 mile walk in with heavy backpack, I still had 1km to go and he filmed me going loopy, walking drunkenly and mumbling to myself  "I like grass and mud, it's nice and soft" 😂 I was done. We were hoping swelling in my feet will calm down overnight and I can at least walk out of Cape Wrath Trail. Next morning, the swelling seemed to have gotten worse. There was no way I could have walked out in my socks or insoles, safely over rough terrain (I'd duct taped insoles from my shoes to my feet).
We did try to organise our own boat out but having no luck we eventually called the local police for an advice. They contacted the Assynt Mountain Rescue Team who organised a boat from Kylestrome Estate. I am forever thankful for Paul for coming to get me and organising a boat rescue. We didn't want to bother the mountain rescue and the police but so grateful for their help.
For the swelling I suppose I could have walked out with 2-3 size bigger shoes but it would have been very slow and unsteady walk out and I could have inflicted more injury. I think a take away lesson here was to stop at the last village before I got to this worse state.
All in all it was my first stab at multi day ultra. It was full of learning experience about myself. It was a shame I didn't get to the lighthouse at the end but I don't envision to be back on Cape Wrath Trail at all!
Read more from Ultra Saki here