Last Race
Upcoming Races
South By Five - Rouken Glen
Pollok Park Trail Race
A Lakeland 100 story – "Smile When It Hurts"/"Smile When You Puke"
Lakeland 100 – no lumpy soup please 🙈
Lakeland 100 is a 105 miles (168km) trail loop up, down and around the Lake District roughly accumulating over 20000ft (6300m) elevation change. I can tell you now there aren't many flat bits in the Lakes.
This was my first proper running race since November 2019 and I only realised how big the race is couple of days before the race start. I saw there were 660 dots for the 100 and 1500 dots for the 50 mile races. I've not seen that many people over 18 months. 
Route recces
I've managed to recce about 70% of the route. Long travel restrictions in Glasgow meant I only had limited time to squeeze in the recces but I thought I went over the important sections (Boot to Howtown and Mardale to Skelwith Bridge). Recce runs were adventurous and fun getting lost (so I don't make the same mistakes on the day!) and it was nice meeting few runners doing their recces and rescuing a sheep 🐑 as well.
Race day
The Lakeland 100 race start at 6pm – sweaty drive and arriving in busy Coniston just after 3pm which I thought was plenty of time. The registration for the 100 closes at 4 pm and the queue for it was very long. Luckily, runners doing the 50 let me go first (thank you 🙏) so I was registered by 4pm. 
Lining up at the start it was so surreal seeing all these people and so many people I recognised from Instagram. I felt a bit star-struck 😆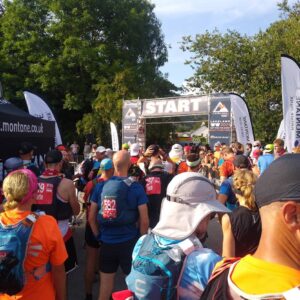 It was still very hot so once it started I was running at a comfortable pace but my t-shirt was drenched in nanoseconds. I've not recced the start but loads of people in front so no issues with nav here and just chatted to Chris from London. Both our poles seemed broken from the start refusing to pull out as the rubber inside the poles seemed to have stuck in the heat but eventually it did pull out.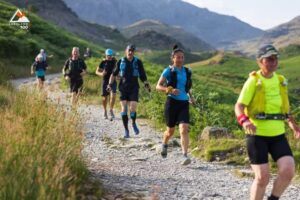 Through the night
My favourite section was the Black Sail Pass with all the head torches stretched over miles of trails and a full glowing moon, it was magical. Running quite happily and I was eating and moving well. I knew I was spending more time than I liked in each CP but I was able to eat and because of that I was able to run between CPs so it was well worth the 5min extra stops.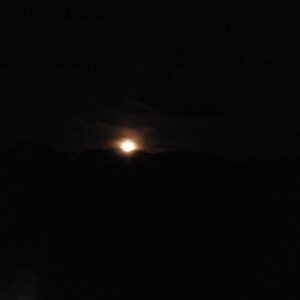 I lost the small group I was running through the night at Docra CP and I run mainly by myself to Dalemain and felt low in energy and slow. To my surprise I've caught up with Maria and Debbie again at Dalemain CP but I've already began to feel nauseous so I knew it wasn't going to be a quick turnaround. I force fed myself soup and bread then projectile vomited from my mouth and nose as soon as I left the CP. To my horror this is the start of 50 miles and I felt so bad for 1500 runners who will have to pass my mess (so sorry!).
Andy
Nausea kept me company but I run as much as I could to Howtown CP. By the time I got there, I was in a bit of a state and had to lie down for 10 min. Volunteers were amazing and looked after me. After throwing up some more, I had a cup of tea with sugar and salt and it stayed in (yes!) and I tried cola next and that stayed in too, magic! Super helpful volunteers looked surprised when I got up to leave given the state I was in. Next section over to Mardale I haven't recced before, perhaps it was for the best as if I knew how big the climb was, I might have not left the CP.
I made a very slow progress up but I was getting increasingly confused and dazed from the dehydration, I couldn't quite work out what the GPS arrow was telling me. Lucky for me, Andy who I met on one of the recce run came by and led me down to the CP. 
Slowing down helped with nausea. After a while I realised I felt hunger rather than sickness. I felt more human and lifted that I now had a chance of getting to the end if I can refuel! It wasn't going to be pretty or fast but that's ok as long as I get to the end. That was my main target from there on.
Lumpy soup?
Operation Kentmere – after having a race saving soup at Mardale, Andy and I left for Kentmere CP. We had done ⅔ of the Lakeland 100 route and we weren't going to give up now. We chatted, walked ultra shuffling here and there. My stomach was still not accepting anything other than liquid, I would have soup at CPs and water and coke on the move.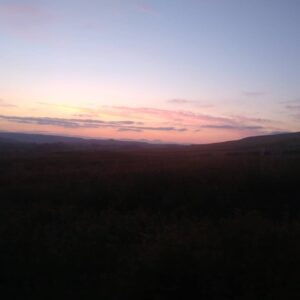 Once we made it to Chapel Stile CP, second to last CP we knew it was in the bag. I asked for soup and went green when I saw the soup. I apologized to the volunteer I couldn't eat it as it's too lumpy 😭 they did have refreshing watermelon though so I had that instead.
Should have known my stomach was closed and any solid food, even watermelon, was a no, no. I had to throw up and hear the chorus of sympathy ahh's the 50 runners went by.
Home straight
By then miles left was in single digits, my energy level was low but I knew I can make it. I remember David Goggins saying "When you think you've hit rock bottom, you are only at 40% of your body's capability" 
Coming into Coniston was a pure joy and emotional seeing all of the people clapping and cheering. We've practiced our run finish in Ambleside now for the real thing. It has taken us 30hours18min to cross the finish line. What an incredible feeling. People ask why I do it and it's partly for that moment. We've conquered our minds and bodies, endured, suffered, supported each other, laughed and cried. So many feelings all in a bundle.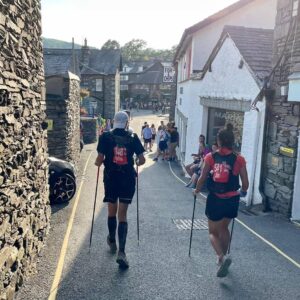 My deepest thanks to the Lakeland 100 race organisers for this special race, amazing volunteers who can't do enough for you and supportive running community. Of course, big thank you to Andy for your company, wasn't it a great day out in the hills 😆
Read Ultra Saki's previous adventure on the West Highland Way, as she attempts to break the women's course record. Click here
2 responses to "A Lakeland 100 story – "Smile When It Hurts"/"Smile When You Puke""