Last Race
Upcoming Races
"The Dunky" - Duncan Macfarlane Race
South By Five
Linn Park Centenary Trail Race report and results
It is a great feeling hosting a race for the second time. Linn Park Centenary Trail Race was our first real life race (i.e. non virtual event). For that reason alone it's always going to be an important one for us. Of course the fantastic route, the hills and the mud also mean its always going to be a feature of our calendar.
The feedback we had from 2021 meant we could not leave this out this year. Some difficulty with local authorities were overcome by making the race free to enter.
Entry fees were put to one side, and entrants encouraged to donate to Friends of Linn Park and Nerve Tumours UK. And donate you guys did! Thank you so much. We'll be sending both of these organisations over £300 each!
Charity
Nerve Tumours UK were chosen as a close friend is raising money for them culminating in next month's London Marathon. Garry lost his sister Natalie, age 17, to a condition called neurofibromatosis. Nerve Tumours UK support families effected by this condition and help fund research.
You can read more about Garry's fundraising (and donate!) at his JustGiving page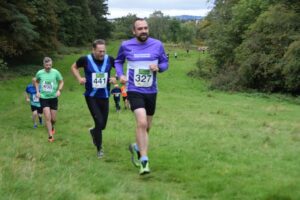 The race
Like 2021, this year's race did not disappoint! A couple of minor tweaks to the route, and another hill added! It did lead to an awesome down hill finish though.
It was great to see you careering down the meadow towards the chequered tape. So many smiles at the finish line, despite all the swear words likely uttered in our direction whilst you were out on the route! Those steps….🙈🙈
Photos
With two great volunteers pointing big cameras at you out on the course there is hundreds of great photos of you all enjoying yourself.
Also several of the marshals also used their phones to add to the collection of sweaty, muddy, tired and happy runners.
They can be viewed on our Facebook page, and also other have been posted to the Acorn Trails Pinboard.
Results
Full results are available to view and download here….
The top spots were filled with Chris Grant Pantrey (Shettleston Harriers), Steven Prentice (Unattached), Chris Upson (Cambuslang Harriers), Georgia Freeman-Mills (Cambuslang Harriers), Jurgita Buciute (Unattached) and Kristina Grieg (Bellahouston Harriers)
Both Chris and Georgia narrowly missing breaking the course record, despite the extra hill we added!
Both win a free entry to the Dunky, our next trail race on 23rd October in Mugdock Park.
Highlights
So many and too many to mention them all, but a couple to be pointed out.
Jim the Dog, thinking he's now got enough experience in the race team to read out the race brief himself. Think he forgets not everyone understands his language!
Mark King (Cambuslang Harriers) finished 4th, but still walked the steps, exclaiming, "I saw Chris Upson walking, so was happy I could too!"🤣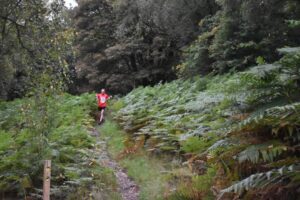 Calum Roach finishing in 54:43 in his longest run to date whilst he trains for Great Scottish 10k next month (he's got that nailed). Swaggering over the line, happy with himself, and asked where his dad was, "oh he's waaaaaaaay back there"! Dad crossed the line nearly a full minute behind and immediately sought out his son to congratulate him with a big hug!
Last finisher Victoria Tinney crossing the line to a rapturous applause and cheers from all the runners who were still at the finish, including the race winner! It's great to see that sort of support for all, from all.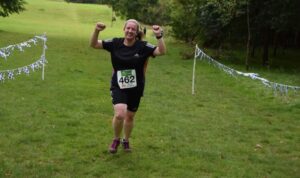 Thanks
As always we have a good list of thanks, our hi-viz heroes are amazing and keep these events on for you to enjoy.
Massive appreciation to: Angela Mains, Conor and Leah, Lynn Connor, Kevin Queenan (race photos meadow and finish), Dorothy Buchanan (FOLP), David Powrie, Nick Dowley, Jenny Brown, Finn, Sam Hampton-Smith, Andrew Anderson and Sophie, Charlene Harris, Kaz Macintyre, Sean Macintyre, Rodger McElhaney, Marina McCallum, Richard Cooper, Robert Hill (woodland photos) Steven Gilligan, Paul Fletcher, Katy Tallon, and Cedric Moreau
Raffle
Anyone who bought raffle tickets, this will be drawn on Thursday night. We'll share the winning numbers to our social media channels.
Next up..
Migo Mile on Sunday 25th September. This month we start at 6pm! Enter in advance is good….. Or on the day also.
The Dunky, 23rd October in Mugdock Park, 7.5km trails…enter here…
We will of course look forward to inviting you back for future races in Linn Park