Last Race
Upcoming Races
South By Five - Rouken Glen
Pollok Park Trail Race
Magnificent 7
Migo Mile for August
It was a small turn out for the August Migo Mile. A consequence of a busy few days of racing in the local area: Canal Canter from Springburn Harriers on Thursday, then 3K on The Green and the Bellahouston 10k on Friday. Saturday brought the OUT-Run in Glasgow's West End, and the awesome Tom Robb Memorial Trail Race in the Carron Valley.
Magnificent 7
The small field led to runners experiencing some new sensations – leading a race! Both Craig Brown (Garscube Harriers) and Alan Brown (Runrecover) took a turn up front, but ultimately it would be Alan who would cross the line in the lead in 5.55. He also had some words with the RD about the uphill finish!
Returning to the route for the first time since February 2020 Motherwell AC's Alan Strang was looking for a benchmark – apparently way off 2020 fitness levels, but then he's most certainly not alone in that. A time of 6.09 not too shabby, and we look forward to seeing him return and improving.
Bellahouston Harriers always support this (and our other events) well. Gary Henderson was today's first Bella crossing the line in 6.42.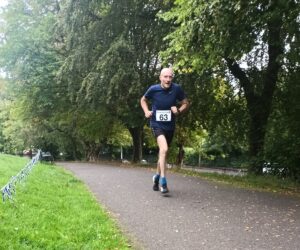 Marina McCallum (Kirkintilloch Olympians) added 1st female – 7.28 – to her 1st F50 prize from yesterday's hilly Tom Robb Trail Race. Rightly she complained of tired legs after her Migo Mile.
Second Bella Harrier home was local legend, John Softly in 10.30. So in the zone was he, it led to himself and 2nd female Shona McCormack going on a slight mid race detour towards the park exit, spotted and rectified by the hollering marshal at Balvicar Drive.
Results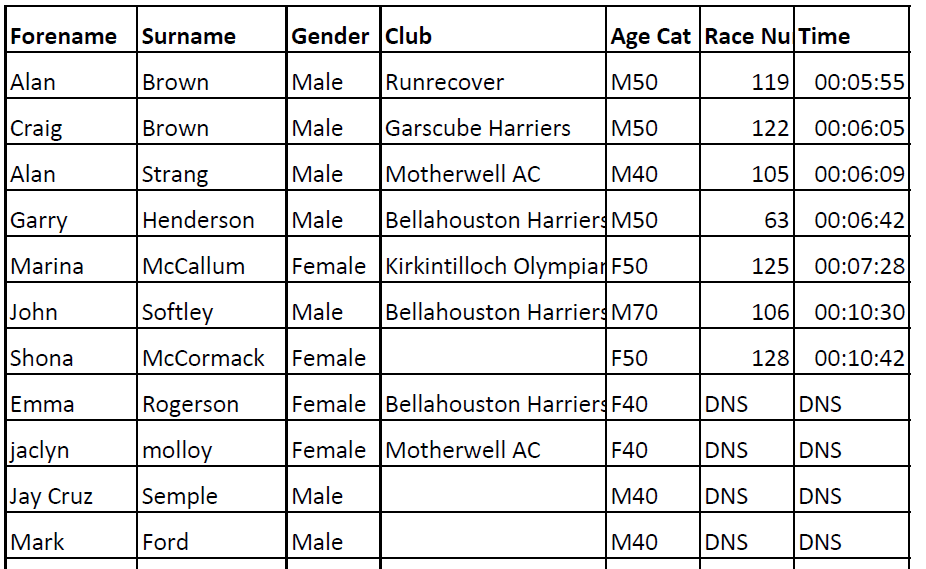 Thanks
As always thanks to our hi-viz heroes, Rodger McEleney and Paul Fletcher for helping out, Tunnocks for post race snacks, and all the entrants for their charity donations. Acorn Trails, with your support have now donated ££££ to Give A Dog A Bone….and A Dog A Home since we started in January 21.
Next….
On 18th September we have the Linn Park Trail Race – 8.5km of beautiful off road running – and FREE to enter. Sign up here….
The next Migo Mile takes place the following weekend – it's the September break. The race will take place on Sunday 25th September but at 6pm instead of 9.30am.
The Duncan Macfarlane Race takes place in Mugdock Park on 23rd October – enter here