Last Race
Upcoming Races
Coming soon
Clyde Stride - coming soon
Rx5 report and results
Rouken Glen – Rx5 event report
A cold and frosty morning greeted runners to Rouken Glen for event three in the South By Five series.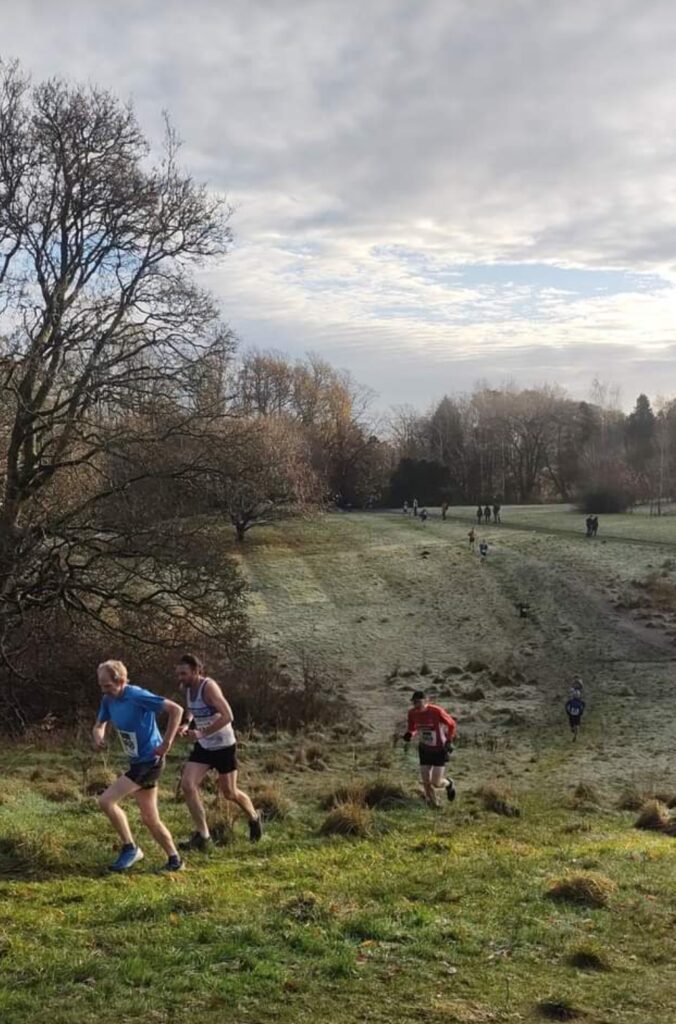 The route at Rx5 is the most varied of the six routes the series offers. It encompasses a nice hill – both up and down – as well as grass, mud, steps, waterfalls and an over-reaching tarmac stretch which is gradually uphill!
The temperature was embraced by participants, mostly, possible exception being Callum Wallace, who had a pre race dash back to the car to layer up! The 'Baltic' conditions reducing the level of mud in the meadow, which was the only complaint heard regards the race!
Hound hurdles was an additional component added to the race. Rouken Glen, on a beautiful morning as it was, is very popular with the local dog owners! Gillian Gallagher earning additional kudos for her canine capers!
Podiums
An epic battle up front, was nip and tuck for quite a while.
David Hepburn edged out Grant Jeans, nipping under 19mins finishing in 18.56 with Jeans a few seconds back in 19.03
Taking the third step, for his first podium, was Callum Wallace excellently cheered on by marshal missus, Charlene! (hint….need an extra boost? Get the other half or family member to volunteer!)
Top 3 males:
🥇David Hepburn
🥈Grant Jeans
🥉Callum Wallace
Hannah Bayes dominated the women's race leading from the off, powering up the first hill.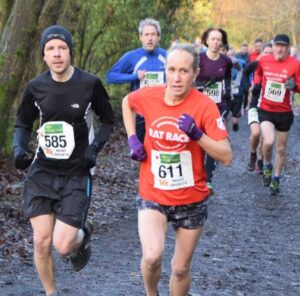 Bayes leading down through the meadow, chased by Jenny Brown, and Georgia Freeman-Mills (Cambuslang Harriers). An ensuing tussle between Brown and Freeman-Mills, so Brown beaten down the final hill by the powerful sprint finish from Freeman-Mills
Top 3 females:
🥇Hannah Bayes
🥈Georgia Freeman-Mills (@cambuslangharriers)
🥉Jenny Brown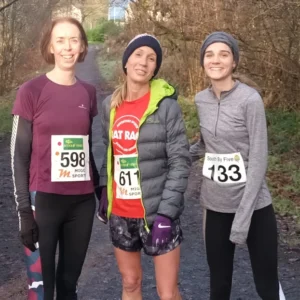 Despite the district cross country on Saturday afternoon, club runners still arrived to display their colours. Bellahouston Harriers most represented (8 members) including the Runbritain Rankings obsessed David Gemmell (don't worry David, the results will get there!)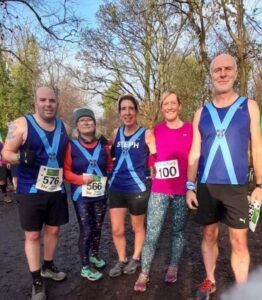 Full results
Click here for the full race results.
Series results coming soon…. they're a little more complex!
Foodbank
Thank you all for your generous donations to the Glasgow SE Foodbank. They will be much appreciated by the recipients, especially at this expensive time of year.
Thanks
Our hi-viz heroes are always amazing! Huge thanks to: Lynn Connor, Brian Hughes, Keira (mini Michelle), David Powrie, Paul Fletcher, Debbie Wright (First Aid), Annemarie Pickersgill, Colin Weir, H (the naked marshal!), Alan Duff, Charlene Harris, Zuzana Rencova, Grame McNay, Simon Parkinson, Claire Taylor, Blythe Lindsay, Richard Cooper, Kevin Queenan, Jim the Dog!
As always thanks to support from Tunnocks, as modelled by third time South By Five series runners Colin and Amy Gray (improving year on year – well done!)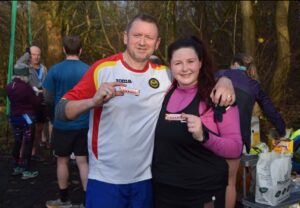 Photos
Not only did our hi-viz heroes freeze their extremities to keep you guys right, they took some cracking snaps too!
Chief photographer Kevin Queenan has shared his photos direct to the Acorn Trails Facebook feed – start, finish and stuff in between!
Colin and Annemarie (featured image) out in the meadow took some great photos. Took me a moment to work out where it was, so bleak and remote looking!
Lynn also took a myriad of photos about the start/finish area.
These have been shared to Acorn Trails Pinboard on Facebook. Race photos are one of the best reasons for social media!!
Find the Pinboard here...
Next race
Next up we head to Pollok Park on the 18th December. Santa hats encouraged!! If you're unable to run please let us know so we can pass your place onto the waiting list. Also if unable to take part, please do consider donning the hi-viz and giving us a helping hand, it is much appreciated by runners and organising team.