Last Race
Upcoming Races
Coming soon
Clyde Stride - coming soon
Bx5 report
Nearly there
Writing this, I joined with several of you who'd commented they couldn't believe South By Five was nearly over. With Bellahouston Park the penultimate event, we're very much into the final hill of the series as we run headlong towards Queens Park.
Quiet those sighs of relief. Of course that sentence isn't literal, there's definitely more than one hill left!!!
In the mix
We've 84 runners still in the mix, having 30 runners already completed five races, and another 54 with a chance of completing the series by completing at least 5 of the six races.
Belying the forecast, the sun shone on 109 runners who toed the line to pound the tarmac paths of the park.
A small but merry band of hi-viz heroes encouraged participants up the steps and hills that the route encompasses. The sound track varied from claps and cheers, to tambourines and the Benny Hill theme tune!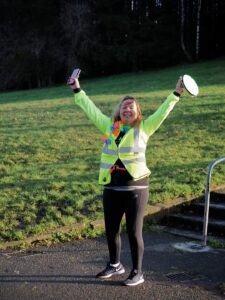 It seemed to work, smiles throughout the field overtaking the swear words uttered on the steps!
There was individual battles throughout the pack, with the front three runners line abreast up 'that' hill; eventual first female struggling to keep up on the first lap; and hill runners from Dunoon and Westies digging into their experience to chase down other competitors on the inclines.
From Bella steps to podium steps
A tough battle at the front was decided by a sprint finish. It is such a good route for that! David Hepburn, edged out Grant Jeans, with Callum Wallace once again taking the third spot.
Hannah Bayes went off strong, in what seemed to be an effort to get the job done early on. Jenny Brown managed to dig deep and hang on to that early drive, and had enough left in the tank to overtake and take the win from Bayes. Juliette Linford (Glasgow Tri) took third place in her first event of the series.
As usual throughout the Series, the last finisher and tail runners crossed the line to a multitude of applause from the gathered finishers. It is fantastic to see runners of all abilities enjoying their own and others race.
Series standings…
As explained in the report for Pollok Park, the series standings are quite a complicated affair!
Runners need to complete 5 out of the 6 events to be classified.
Only series runners are scored against each other.
Points are awarded for your finish position. First place, 1 point, second place, 2 points etc. Lowest total score wins!
If a runner completes all 6 events, their worst position will be discarded. For example Runner A wins five races, and finish third in the last event. We would discard that last race from their tally and they would score 5 points from their 5 first places.
Simple eh?
It can all change with the last race. Especially for those who haven't yet finished 5 races. If they don't show, they drop out of the standings which can result in a big shake up for everyone that's left!
For those that understand all that, they can see the current standings here. Green race numbers have completed 5 races.
Awards
But it's not just the top steps where the prizes go.
We like to ask you, the participants, both runners and volunteers, to have a say.
RUNNER'S RUNNER
A fellow runner who's inspired you during South By Five.
A name, race number or one of the many photos will do to help you nominate.
RUNNER'S MARSHAL
Who has stood out for you and given you that extra boost?
If you don't have a name then we can probably work it out with a decent description!.. e.g. big ears, bushy eyebrows, barks encouragement!
MARSHAL'S RUNNER
Have you donned the hi-viz during the series? Which runner has stood out for you, either by performance, dedication, dirtiness (ooo-er misssis!) etc
Give us your names or nominations. Either comment below, via Facebook Messenger, WhatsApp or email hello@acorntrails.run or text 07943838805
Foodbank Donations
Your amazing donations to the foodbank has been overwhelming! And heavy!
The manager at the Glasgow South East Foodbank informs us that the donations are enough to feed a family of four, plus pets, for the entire duration of the race series!
ReShoes
Anyone who took part in the South By Five series last year will recall our ReShoes idea.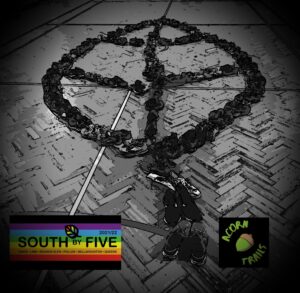 Your pre-loved running shoes were brought to the races and found their way to those in need, to continue their purpose!
This year we decided not to collect at each race, storage being a concern for us at Acorn Trails HQ, especially whilst we tried to sell the house and keep it looking prim!
However, Refuweegee will be attending the Queens Park event to take your donations of preloved running shoes (not end of life shoes! Something that folk can still get use from) as well as other running gear… tshirts, jackets, leggings, shorts etc.
Please bring your donations along to registration. Helpful if you can tie the laces of a pair together, and include a wee post-it with shoe size.
Photos
Official race photos from Kev ….here
Additional race photos from George and Ian, and some of the marshal team on the Pinboard …here
Thanks
Back to those noisy hi-viz heroes!
Katy Tallon, Lynn Connor, Brian Hughes, Phil Knight, Kevin Queenan, George Wilson, Ian Cochrane, Debbie Wright, Simon Parkinson, Nick McKerral, Rachael Goslan, Liz Deans, David Powrie, Charlene Harris, H, Graeme NcNay, Kirsten Macleman and Sophie, Richard Cooper and Jim the Dog
Next up…
The finale….Queens Park, Sunday 22nd January 10.30