Last Race
Upcoming Races
South By Five - Rouken Glen
Pollok Park Trail Race
Flung out by fuelling woes
Ultra running is a weird sport. My thought while packing my emergency bag of Doritos in my running vest the night before my run on West Highland Way. I was attempting to (unofficially) break the women's record held by Lucy Colquhoun, 17 hours 16 minutes.
Japan plan
I have been training for an FKT attempt of multiple-days ultra running in Japan. Optimistically thinking the pandemic would be over by April 2021 and I could visit my family and fit in a 1200 km run while I'm visiting.
International travel is still not allowed and not wanting to waste my fitness, I looked at a route closer to home. With a lack of races to choose from, a FKT challenge seemed like a good goal. The West Highland Way starts only 20 minutes from home, a goal was set.
Forewarned is forearmed
I knew the route well from walking it and racing The Fling (53 miles) and Devil o' the Highlands Footrace (42 miles).
The Devil was my first ultra race and it was a steep learning curve. Telltale signs of bad fueling were already showing. I drunk 500ml water and a couple of sips of coke for 42 miles and over 7 hours of running.
Fueling lessons
I love to eat and one of best thing about running for me is eating before and after the run.
During the run though, my stomach can't seem to handle food. I often end up taking food out for nice fresh air and not eat or drink on the run.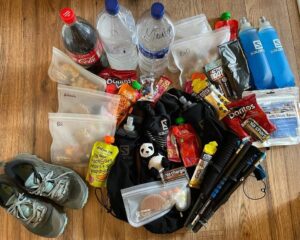 This time, I have been experimenting and training my gut in the longer runs. In hindsight I probably wasn't running the longer runs with the intensity needed. Food that was okay on slow long runs (I give it an okay status because it sometimes did pop back out unsuspectingly and I had to quickly swallow it back down to avoid losing calories) was most definitely not ok when I was running faster pace on the attempt. I gagged at the sight of flapjacks and chocolates and that's not a normal reaction for me!
Fueling woes
Food was not sitting in my stomach well from just before Conic Hill. My additional runs to the bushes started around 30km in to the run. I got scared of giving any food to my body. By the Loch-side I was pretty much just on Maurten and Precision Hydration drinks to try and get my stomach settled but this was a big mistake.
Beinglas Farm was my 2nd check point and it was great to see Paul, Alex and
Michelle after a long and slow section of solitary running by Loch Lomond.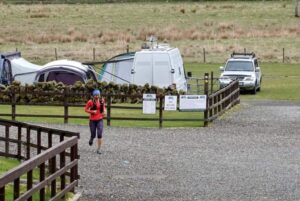 Alex gave me a stern look [probably more than a look! Ed] when he went to exchange my full food bag. At the check point, all I could eat were slices of watermelon and mango which tasted amazing.
Seeing I was behind my schedule made me stress out a bit too. Auchtertyre was to be my main food check point. I made the mistake of buying really thick lentil soup which I struggled to swallow. I didn't want any of the food we've packed and I gave up trying.
Flung
By Tyndrum I was running on fumes and still unable to get calories in. The weather closed in and it got colder with sleet and rain.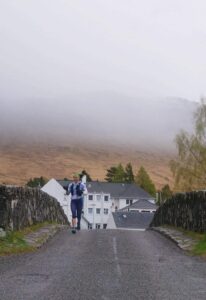 During the flat runable 10km, I was slower than my scheduled time and I only managed couple of sips of Precision Hydration and an apple sauce in this section. That's less than 70 calories and I was aiming for 200 calories an hour.
Over and down Jelly Baby Hill, Alex met me by Victoria Bridge for the journey to Kings House over Rannoch Moor.
Rannoch Moor just felt like endless long slog. I was just walking and felt dizzy and empty. Alex did grant me a 5 minutes lie down on a rock which did help with dizziness and I managed a shuffle run down hill to Glencoe Ski Center afterwards.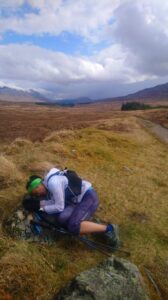 Kings House
Finally arriving at Kings House where Michelle met us and there are posh public loos! By then I was too far behind my schedule to go under 17 hours. Sitting outside the toilet and the thought of another slow 40 km was off-putting.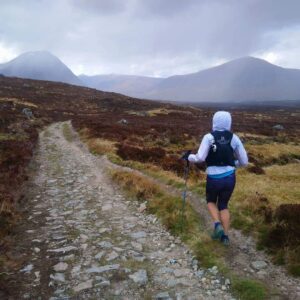 Paul was due to meet me in Kinlochleven and run with me, but Alex got him to come over to meet me at Kings House instead.
To have carried on, we would definitely have finished in the dark. We had no other support from there on so we would had to get to the finish or be rescued. It was humbling experience to have my first DNF but it felt like a right choice to end there and have a great long training run instead.
I still gave it a good go and learnt so much from it. My longest ultra previously was the Spine Flare 108 miler. The pace was much slower and I had less issues with nutrition.
Lessons learned
On this attempt I decided to end my run at Kings House, 115km. I'd run the first 100km in 12 hours. The last 15 km took another 2 hours. I sat outside Kings House public toilet for 25 minutes to make the choice to pull the plug.
Except for stomach issues, everything else worked fine. Not even blisters. My shoulders were sore from the weight of carrying food and drink. My legs were stiff but, as I write, I can walk. I think I can start running in few days!
Not the result I wanted but still happy I tried it. It was valuable learning experience and I really appreciate the support I received on the day from WHW community.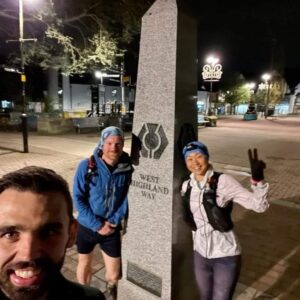 Special thanks to Paul, the Acorn Trails team (Alex, Michelle and Jim) and Tom (who I might have put off ultra running!).
One of the beauties of a self organized run is I can have another go again this year.😉
Watch this space for more challenges!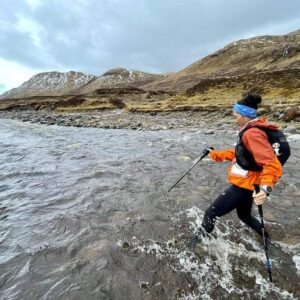 Saki's ultra record:
Devil o' the Highlands Footrace 42 miles, 6th female, 7.14.50
Tweed Valley 65k, 3rd female 7.08.26
The Highland Fling 53 miles, 4th female, 9.09.14
Spine Flare  108 miles, 1st female, 32.11.22
Jedburgh 3 Peaks 1st female 6.08.08
Follow Saki on Instagram
8 responses to "Flung out by fuelling woes"