Last Race
Upcoming Races
"The Dunky" - Duncan Macfarlane Race
South By Five
Migo Mile For February
Migo Mile
Migo Mile for February ran alongside the last week's challenge of Absolutely Febulous, Short and Sweet. This challenge was to run a mile, so tied in well with Migo Mile with a few doubling up to do both.
February can be a variable month for weather. Three years ago, saw the Beast From The East bury Glasgow in snow late February. That would have made an interesting race report!
Fortunately for 2021 the weather was race perfect. And the underfoot conditions were in stark comparison to the sheet ice of January.
Conditions allowed for Jonathan Dow (Cambuslang Harriers) to become the second Jonathan in consecutive months to take the top step. A blistering 04:59 would probably have melted any ice if it had been there! Jenny Brown took 7 seconds of her January time to narrowly miss the sub-6, finishing in 6:01.
Results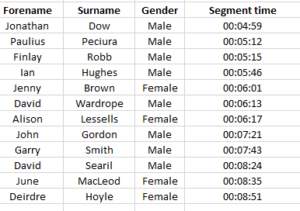 Prize Winner
Our lucky winner for the Migo Mile for February, drawn from the hat from all finishers, is Garry Smith (Bellahouston Road Runners), who receives and entry into a future Acorn Trails event. Well done Garry.
Charity
Donations were included with those from Absolutely Febulous allowing us to donate over £200 to the Emma Cameron Foundation.
Next Event
The next event will take place on the weekend of 26th-28th March.
One response to "Migo Mile For February"