Last Race
Upcoming Races
"The Dunky" - Duncan Macfarlane Race
South By Five
Migo Mile For July
A Horrible Wee Race
Another month, another Migo Mile – and a new tag line! It is well know that the 3K On The Green is known as "The best wee race in Scotland". After today's event, we've been dubbed "A horrible wee race"!! There was the addendum "But I loved it". We'll definitely take that – "A Horrible Wee Race That You'll Love" – thanks Barry 🙂
For such a wee race we had some great runs. And a great head to head battle. Iain Muirhead (Bellahouston Harriers) and Barry Mitchell (Bellahouston Harriers) once again went toe to toe, having had a great tussle mid week at the Kilmaurs Gala 5k. With neither dipping over the line, we were left to call it a dead heat in 6.01! Muirhead exclaimed after crossing the line that he wasn't going to let Wednesday repeat itself and hung on!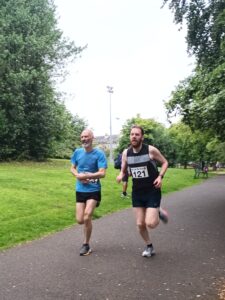 Top Spots
And that battle wasn't even for the top spot! Mark Ford (unattached) managed a strong finish to take the line 3 seconds in front of Steven Macgregor (unattached) crossing the line in 5.33 and 5.36 respectively. Birthday boy, Steven Prentice (unattached) took third place in 5.42.
Emma Rogerson (Bellahouston Harriers) followed the head to head battle up the slightly uphill finish, to cross the line as first female in 6.14, improving on her previous Migo Mile in May 20 by 7 seconds. Creeping toward that course record of 5.54, held by Toni McIntosh (Ayr Seaforth) and a £20 Migo Sports voucher if it is broken.
Beginners and Improvers
Marathon training Joe Linney, was a last second sign-up, roped in as he was running past the start line! A 6.30 in the middle of his Sunday morning long run is what we hope to see on mile 26!
He was followed over the line by the returning Paul Fletcher (Glasgow South Road Runners)  narrowly missing on his second PB of the week (3k On The Green on Friday) with a 7.25, only one second slower than last month.
Cameron Winton (Glasgow FrontRunners) crossed the line in exactly 8 minutes. Post finish chat was of his aspirations for an ultra-marathon, inspired by the Acorn Trails last event, the Clyde Stride Ultra Marathon.
In her first ever mile race, Victoria Tinney recorded a time of 9.12. She commented afterwards she was "unsure how to pace it". Hopefully the experience will help, and she'll be back next month to set a PB!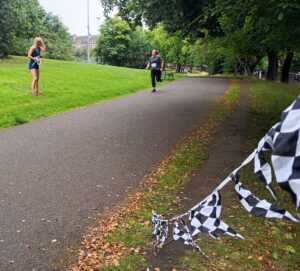 Results
Full results can be downloaded here
Next Month
August's Migo Mile will take place on Sunday 28th August. Advance entry is preferable at www.entrycentral.com/migomile but we do accept entries on the day.
Donations
Entry to the event is free, but we encourage donations to Give A Dog A Bone…..And An Animal A Home
This month we added £33.50 to the £31 from last month. Thank you for your donations.
Thanks
Thanks to our hi-viz heroes Rodger McEleney, Garry Smith, Leah and Conor